Ampe A10, quad-core Android tablet with 10.1 inch display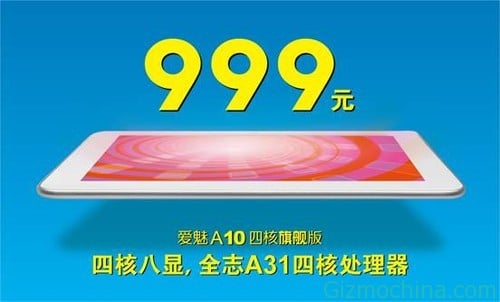 The one of Chinese tablet manufacturer has been introducing Ampe A10, this is a Quad-Core 10-inch Android tablet for the once popular in China today.

Ampe A10 comes with a 10.1-inch IPS touch screen that supports a resolution of 1280 × 800 pixels. Meanwhile, to optimize the operating system this tablet runing Android 4.0 Ice Cream Sandwich on it, the tablet is said to have been supported by the reliability Quad Core processor Allwinner A31 plus SGX544 GPU and 2GB of RAM.
Unlike most similar tablet devices on the market today, Ampe A10 features support for 4K video playback quality. And it is said to have four times the display more clearly than full HD 1080p resolution.
During the welcome the Chinese New Year period, the tablet is one of the best-selling products. And regarding the price per unit is reportedly of 999 yuan or around $150 USD.