Goophone Released iPhone 5S Clone Before Apple, Only $99
by Shine Wong Mar 10, 2013 10:12 am36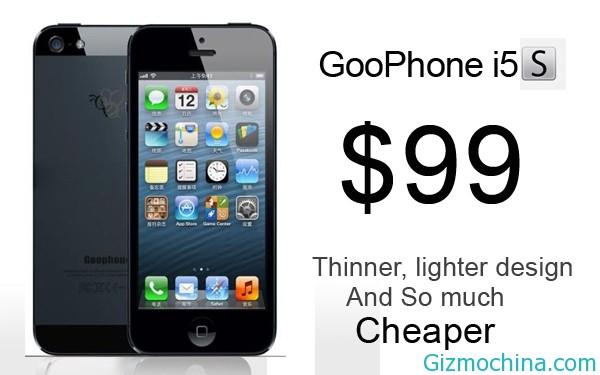 There is some rumors about cheap version iPhone 5S, but Apple will doesn't confirm it before next generation iPhone unveil. Lots of market analysts think it is necessary to complete with Samsung, the latter provide more option for smartphone buyers. Apple is not so fast as before, before iPhone 5 launching, the China factory already released their iPhone 5 clone, and get patent of appearance, although they never sue Apple with this weapon, maybe it will hurt themselves. Today, something happened again, Goophone released their cheap version iPhone 5S: Goophone i5S, and only $99 for first 1000 buyers by some sellers.
The Goophone i5S has same appearance with iPhone 5, but with low-level hardware: 4 inch oneglass screen, 1GHz MTK MT6577 processor, 512MB RAM, 5-megapixel rear camera, and Android 4.1 OS is installed. This phone has 2 interface: iOS UI and original Android UI. You may switch them easily by a code.
Maybe you have doubt about this smartphone, does it work smoothly? How about playing games? Here is hands-on video, you will find how amazing the goophone i5S is.
The Goophone i5S is entry-class smartphone, of course has an incredible price. The listing price is $149.99, but on Android-sale, they will provide a big discount for first 1000 buyers at March 12th, you will get a iPhone 5 clone with $99. Wow, who will be those lucky ones.
Here is the link to buy Goophone i5S: Android-sale.com