Here is the final specs and features of the Samsung Galaxy S 4 smartphone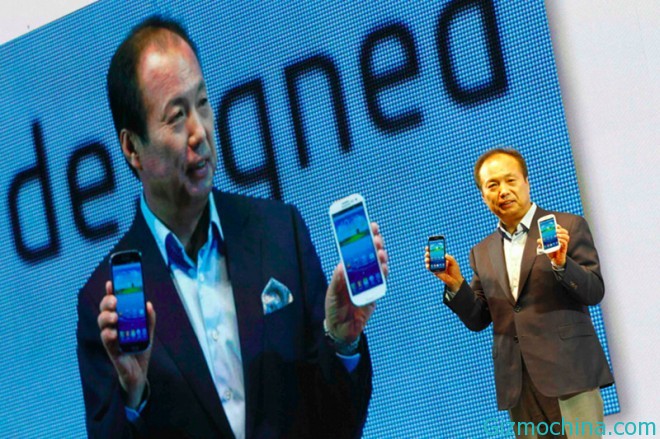 Galaxy S 4 finally chosen a name from the Samsung Galaxy lineup (while  previously rumored as "Galaxy S IV"). South Korean vendors are more forward in terms of renewal hardware and features.

When compared at a glance, the Galaxy S 4 does not offer a leap in terms of design changes compared with the S III. Except for the screen size is enlarged to 5 inches, 4.99 inches to be exact.
The screen certainly will be more brilliant with the capability of 1080p full High Definition (HD), 441dpi density coated with Super AMOLED screen technology.
Well, interestingly Samsung did not mention what processor is carried on this new smartphone. Although as quoted from Engagdet, that's phone is using octa-core Exynos processor 1.6 GHz or 1.9 GHz Quad Core Qualcomm.
Meanwhile, according to JK Shin, Samsung Mobile Chief, S 4 comes with a wider screen but thinner and lighter. Because this phone is made with a weight of 130 grams with a thickness of 7.9 mm.
Meanwhile, the Galaxy S 4 is powered by 2.600 mAh battery. Here are the full specifications of the Samsung Galaxy S 4.
Screen: 5 inch 1080p (1.920 x1080), Super AMOLED, 441ppi.
Weight: 130 grams with 7.9mm thinness
RAM: 2GB DDR3
Processor: 1.6 GHz Exynos Octa-core / quadcore 1.9 Ghz Qualcomm (every state is different).
Internal Memory: 16/32/64GB plus external memory slot up to 64GB.
Camera: 13 Megapixel (back), 2Megapixel (front).
Operating System: Android 4.2.2 (Jelly Bean)
Connectivity: 3G (HSPA +) and 4G (LTE).
Battery: 2600 MAh
And here are some special new feature on Samsung Galaxy S 4:
S Health gathers info on sleep patterns, heart rate, your exercise patterns, blood sugar and blood pressure levels, which are all complied in the phone using a new line of accessories, such as an S Band that you can wear on your body in some fashion. Samsung didn't go into much detail on the accessories, but it looks like Samsung is getting into wearables such as the Nike+ FuelBand and FitBit products.
Smart School and Smart Pause, which tracks your eyes to control what's going on with your phone. If you're watching a video, just look away and the phone pauses what you're viewing. Take a look back at your phone, and it starts up again.
ChatOn, Samsung's instant messaging app and iMessage rival for iOS and Android, has been updated on the S 4 to included video calling. Samsung is tailoring ChatOn as a rival to both Face Time and iMessage.
Group Play — a feature that shares music across as many as eight Galaxy devices with each device working a speaker in a surround sound set up.
Samsung Knox — here we go. Samsung showed it off at Mobile World Congress back in Barcelona. It's a security feature that locks the data on your phone, and separates your data (photos, files, emails, apps, messages) into both a work space and a personal space. This looks and sounds a lot like what we saw on BlackBerry 10. This idea might end up catching on, so don't be surprised if we see other phone makers introducing similar features later on down the road.
S Voice Drive will place calls, look up the weather, read you a message and then transcribe a response for you, and speak out turn-by-turn directions. As long as your car has Bluetooth built in. The text displayed on screen shows up larger in S Voice Drive mode, so as to make your phone less distracting to you when you're driving.
Sharing. Samsung loves it. HomeSync, a home server that works only with Samsung devices, can automatically send photos taken on the S 4, back home to your friends, families or roommates. Samsung is offering 1TB of storage, and up to 8 users on the device. HomeSync connects to the S 4 using NFC. And the set-top box can display images on your HDTV.
Story Album — a feature where the phone sorts photos into albums baseed on location, with info on the location, people and weather in each photo. You can pick a cover and make it a digital photo album and, in partnership with a company called Blub.
S Translator looks like it could be very useful if it works, especially if Samsung expands it to more languages. The app understands 9 languages, text to speech and speech to text.
Eraser — a feature that enables users to erase parts of one image, another shot in the same scene shows up.
Drama Shot enables users to take more than 100 photos in 4 seconds, then slaps them all together in the same image.
The S 4 has a ton of filters and photos effects. A cool one is Sound & Shot, which records audio while taking a photo. When you see the photo, the audio clip plays.
Dual Camera — the S 4 will use the front camera to insert the phone's user into a photo their taking with the rear camera. And this works with video too.
IR LED is built into the S 4, which means you can use it as a TV remote.