Pantech Perception will be launching on April 25th
A new Pantech smartphone will launching on April 25th by Verizon Wireless, Pantech Perception is the one of Android smartphone that has been approve by FCC on last February by Evleaks has been announce on his Twitter account, that "Pantech Perception launching April 25th on Verizon"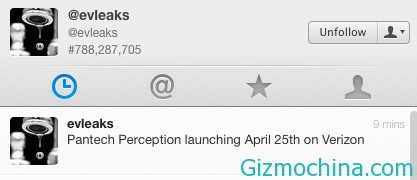 This is the interesting news, since Pantech is made by Chinese maker and trying to hit the U.S. market and will be popular as other Chinese brand such as Huawei and ZTE.
Pantech Perceptio is packed with 4,8 inch screen size, and will has NFC and 4G LTE as well as GSM and CDMA roaming capability. A glance through the drafted user manual also yields references to microSD expansion, DLNA, HDMI, and Wi-Fi Direct.
This Pantech Phone will running Android 4.0 Ice Cream Sandwich operating system and while for now we don't have any information about the price, It seems Verizon will offers a two years contract and the user will get the more cheaper than you expected.