Lenovo X910 Appear on AnTuTu benchmark test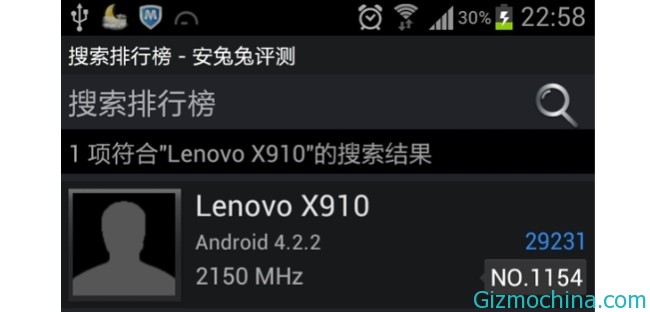 Lenovo has launched the IdeaPhone K900 smartphone, a 5.5 inch screen 1080p premium design reinforced Intel Atom dual core processor and running Android operating system.
However it looks like Lenovo still has another weapon, the device is Lenovo X910 that running with Android 4.2.2, those information leaked from AnTuTu benchmark results.
Its seems those device is tested in China, those device running at 2.1 GHz clock-speed with a good number at 29,231 points, this equivalent to devices with a Qualcomm Snapdragon 800 chipser.
So, if the device is the successor of Lenovo ideaPhone K900 (Intel Atom Dual Core) or is a new device that is completely different? Lenovo's previous flagship smartphone is powred by Samsung Exynos K860 uses the same chip as the Galaxy SIII. But the X910 seems to be using Snapdragon 800, seen from the Antutu results test.