Qualcomm is also launch SmartWatch device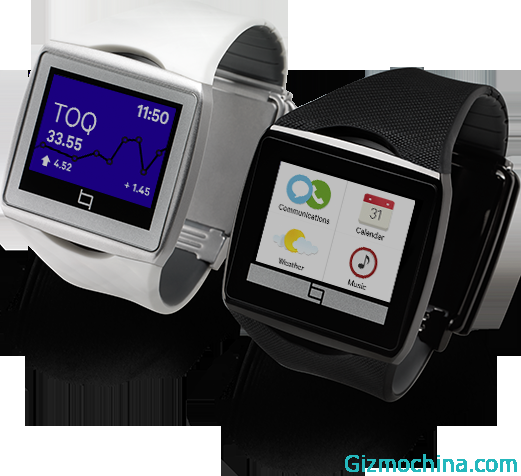 Qualcomm is the chipset company that is now join to Smartwatch market, following Sony and Samsung, seems Qualcomm  is trying to compete in smartwatch market through their smartwatch devices thats called as Qualcomm Toq.
The Qualcomm smartwatch can be use as Android phone/tablet companion, the Qualcomm Toq will shoe the notification when your Android device receive any kind of message.
Qualcomm Toq have a unique touch screen that is Mirasol screen display. The display developed by Qualcomm that is similar with e-papper but with colorfull display and do not require backlight. The screen can also be viewed properly in the sun so that the overall require less power than other types of touch screens. Therefore Qualcomm Toq is claimed to be lit for three days with a single charge.
Qualcomm Toq require couples an Android smartphone (at least version 4.0.3) and will receive notification of the smartphone. Besides Qualcomm Toq can also be used to make calls, view text messages, control music, and so on. Toq designed so that the buttons do not have user interaction is done solely through the screen.
Qualcomm also offers a couple Toq wireless Bluetooth headset has two speakers to be installed in the ear. Pairs, both can be used simultaneously, such as answering calls and listen to music through the control of the watches. Both also support wireless charging.
Qualcomm Toq smartwatch will go on sale mid next month with about $300 USD price tag.