Panasonic released 20-inch 4K tablet device for $6000 price tag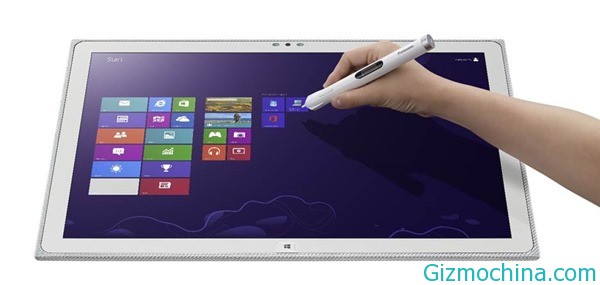 Panasonic is now ready to release the 20 inch tablet debut through the Panasonic Thougpad Windows 8 tablet device, this tablet is packs with a 20 inch screen size with  3840 x 2560 pixel display.
The Panasonic Toughpad 4K will enable photographers, architects, cinematographers and other creative professionals to experience the cutting edge of high resolution tablet technology.
The company started showing off a prototype in January, and now the Panasonic Toughpad 4K UT-MB50 is set to hit the streets in November. It'll carry a hefty price tag though. It's expected to sell for €4,500 and up. That's about $6000.
In addition to offering 4k display, this tablet also comes with a high specification. Among these are 4GB of RAM with a 128GB SSD. Panasonic is also preparing another option for another 8GB of RAM and 256GB SSD. But as significantly, the tablet will come with a heavy weight. For the 128GB version, will have a weight of 2:26 kg. Meanwhile, for the 256GB model will be present with a weight of 2.7 kilograms.
Not just the weight, this tablet also features durable as well as on other Toughpad product. Panasonic says that the tablet is able to survive if dropped from a height of 0.7 meters. Other features, the giant tablet is equipped with an Intel Core i5, NVIDIA GeForce GT 745M, and a battery that can last for 6 hours of usage.
Here are some specs for the Panasonic Toughpad 4K:
Model: Toughpad UT-MB5
Screen: 3,840 x 2,560, 15:10 aspect ratio, 20" diagonal
CPU: Intel Core i5 vPro
Graphics: NVIDIA GeForce GT 745M
RAM: 4GB or 8GB
Storage: 128GB or 256GB SSD
Weight: 5.18 lb