OPPO N1 vs Xiaomi 3 smartphone comparison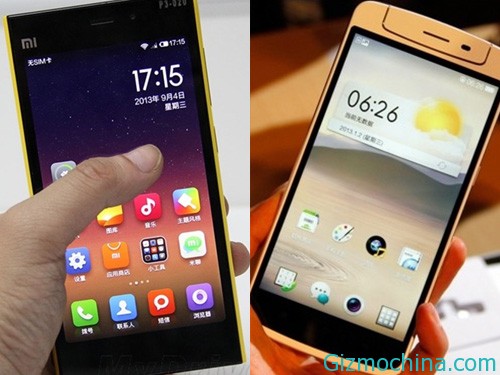 Last night, OPPO has been unveiled the new OPPO N1 camera centric smartphone, this is the flagship Android smartphone from OPPO since OPPO launch the OPPO Find 5 the slimmest smartphone on the market, but OPPO FInd 5 is not slimmest anymore since ViVO BBK is launch their new ViVo X3 smartphone. But now OPPO has been unveiled the OPPO N1 thact packs with powerfull camera.
Today, we took OPPO N1 to be facing competition from other rivals. The opponent is strongest momentum, the most sought after Xiaomi 3 Android smartphone, this is the  latest masterpiece from Xiaomi. My opinion, OPPO is the domestic mobile phone manufacturers in the heterogeneous and not to follow suit as the driving force of painstaking research, trying to find unique breakthrough. The company seeks to pursue this and Xiaomi high-performance, all-round development in the direction different. And it is this difference, resulting in N1 and Xiaomi 3 styles.
OPPO N1
Appearance, although OPPO N1's screen is large, but because of ultra-narrow frame design, not a big impression, but long. Looking ahead, the first feeling is, how have the kind of long night with type mean and Xiaomi 3 may be the spokesman for the eyes is beautiful, how can I see how kind NOKIA LUMIA. Is Nokia acquired by Microsoft, the Xiaomi want to follow suit waiting zhao'an? As a preference for more traditional appearance of mobile phone players, I still kind of like a more desirable Apple Meizu MX3 feeling, simple and yet angular, plain and slightly luxurious. Therefore do not parties powder spray each other, someone's child who does not love to see on Yaner, and how are beautiful, look right Yaner, Mo insist.
Xiaomi 3 Appearance
OPPO N1 Screen details
Screen, N1 apparently touched the Samsung NOTE essence of the series. 5.9-inch large screen, the Xiaomi 3 5-inch screen instantaneously stepped on the foot. Xiaomi conference can be impartial only refers to a phone that is the same as the giant screen of the Samsung Galaxy Note 3. International giants such a giant screen phone Xiaomi 3 are not looked down on, not to mention domestic OPPO it. In fact, on the screen size this child, it is difficult to say big is not on behalf of the strong. Such as Apple, even how to transform the world situation, since I decided to not move, the latest iPhone 5s still set at 4 inches on. This reflects the importance of a single hand operation. 5 inch Xiaomi 3 has been difficult to have a good sense of the operation, the 5.9-inch OPPO N1 How dare themselves invincible it?
Xiaomi 3 Screen details
In fact, think, N1 will be set at such a huge screen, in addition to watching the video gratification, the most important thing is to look at photos convenient. Then the camera would have to say. OPPO heterogeneity in my opinion is reflected in the photo, the former ulike and Find series, is relying on a lot of camera functions winning the women's market. But with the development of the times, the former beauty features rely solely on magic main female market now no longer. Xiaomi 3 at the press conference also stressed its functionality with beauty features. So, OPPO Qiongzesibian, must come up with something new selling point, otherwise only Mandizhaoya envy, so we see its 13 million pixel rotating camera.
OPPO N1 rotatable lens
Have to say this on the phone extremely serious homogenization of today, is an unprecedented innovation. I carefully thought for a moment, functional machine age also occasionally seen in the lens can be rotated in the era of intelligent machines seem really been in a state disappeared. Today N1 rediscovered former share of impulse. Since then, MM timer when no longer tangled pixel front camera, as long as the main camera turn a circle, you can shoot 360 degrees without dead variety of extremely narcissistic photos. 2.0 The large aperture and a soft light configuration, even more so this trait is particularly vividly demonstrated. Xiaomi 3 Although there are beauty features, but his arm held Lao Gao, did not see the screen of the camera is always winking at the screen as OPPO N1 to convenience.
O-Click Mobile Remote Control
Moreover N1 is also equipped with a soap innovative styling O-Click portable remote control, you can remote control camera. Imagine this scenario, Beijing crowded subway, a humble man beard seemingly random placement of their phones, while people are not prepared to look at the camera screwed skirt beautiful scenery of a certain angle, and then a Deputy completely unaware of expression, with the other hand secretly pressed the O-Click portable remote control …… I'm sorry, I is too evil, may also have to admit that in the photo on this road, OPPO N1 far better than expected.
You can not take pictures hang in a tree, which may be the intention of OPPO another aspect of change. In addition rotatable camera, OPPO N1 is also innovative in the back of the phone adds a touch pad, called O-Touch. Officials say it with this child touchpad flip book can provide other functions, and will be open API, for use by other developers for its development-related functions. But I think from different angles, it is difficult to imagine how such a set can play what role.
OPPO N1 back touchpad
We recently saw the back with a touch-enabled devices from Sony's PlayStation Vita handheld, as the orthodox successor PSP, Sony also naive to think that you can bring back a touch more features that unfortunately, even a long time already sold We also did not see how the PSV touchpad can play back on what specific functions. OPPO N1 once again resorted to the back of the touchpad banner, we can expect thousands of Android developers This is a mobile phone just to develop a variety of corresponding feature? Samsung S Pen Note 3 In order to promote the convenience of doing pull to the Evernote partner, OPPO it? Obviously only rely on themselves. In this regard millet 3 on pragmatic lot, since we know their strengths in the running points, put the performance with maximum fine, the other, the wind go.
MIUI V5
Speaking system, rice may have been tempted to have a rallying cry. MIUI Development to V5 version, not modest to say, has put now exploit the advantages of Android customization system to the limit. A variety of topics with a variety of exquisite and practical design, in many cases led Andrews customization system trend. Positive shopping MIUI V5 clearly not OPPO N1 of Color OS capable, so N1 same applies his ads generally go from a small fresh route. Clean interface is simple and firmly take the materialized interface, especially the main mood albums and music interface has also been preserved intact, Color OS is the most prominent feature. There character is a good thing, but the gap is necessary to acknowledge. This time, we see the Color OS's official version, the next time, we expect more.
Finally Tucao about price. If OPPO N1 powder and fruit powder dialogue may appear the following scenario:
N1 powder: We'll turn the camera! Fruit powder: I don't care.
N1 powder: We have big screen! Fruit powder: I don't care.
N1 powder: We have a touchpad! Fruit powder: I don't care.
And if you do change OPPO N1 flour and rice flour dialogue, it would become:
N1 powder: We'll turn the camera! Rice: We are cheap.
N1 powder: We have big screen! Rice: We are cheap.
N1 powder: We have a touchpad! Rice: We are cheap.
N1 powder: We have the goods! Rice: ……
Lei Jun announced a high-profile conference millet 3 1999 yuan
Indeed, OPPO N1 frequently the price of 3,498 yuan, and millet 3 compared to only 1999 yuan price is indeed too obvious disadvantage. You know, the domestic mobile phone users are very cost-effective speaking, 2,500 yuan basically it could could bear. If you have to shell out more for real money, many people will turn their attention to Apple, Samsung also faces child's mobile phone. However, having said that, millet hunger marketing strategy has been criticized, if N1 is sufficient capacity, until millet three really comprehensive distribution, you can get the price to 1,999 yuan, it may also have been reduced to a N1 ideal price of ……
Summary
As smart phones millet deserved leader, regardless of the topic at the product level or levels are maintained at a high degree of concern. Millet 3 as the vanguard of domestic Android phones, but also threw a walk in the trend-setting precedent on the road. The OPPO N1 kind you go to your normal paths, I had my single-plank bridge heterogeneous strategy, so many fans have selected pictures maverick reason. Although the wings were not enough fullness, but stick to it, perhaps usher in more appreciation. Took the lead and never follow suit, millet 3 and N1 long time ahead.