Smartwatch show at Hong Kong Electronic Fair 2013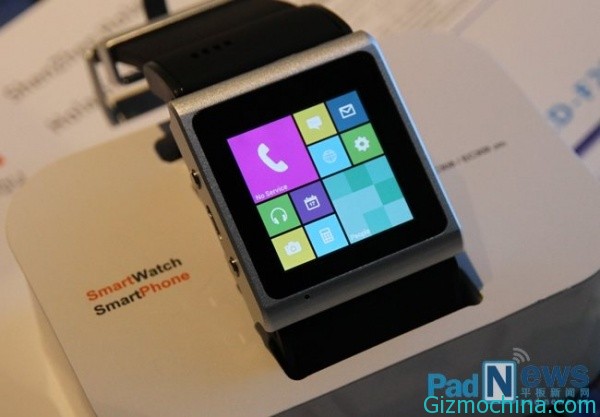 Today, the wearable device is becoming more popular since Samsung has been unveiled their Galaxy gear as their smartwatch device, and some manufacturer is also introducing their smartwatch products recently.

In Hong Kong Electronic Fair, we found some smartwatch products from domestic maret that also interesting, becuase those smartwatch is packs with phone call capability rather than a companion device for smartphones.
The first smartwatch came from doemstic produdcts, the phone has strog built with metal body and packs with 1.54 inch screen size, while the screen resolution is 240 x 240 pixel, the smartwathch has Metro UI style but this is the Android device that can run most Android apps, the screen is relative too small, so the device is to tiny to operate.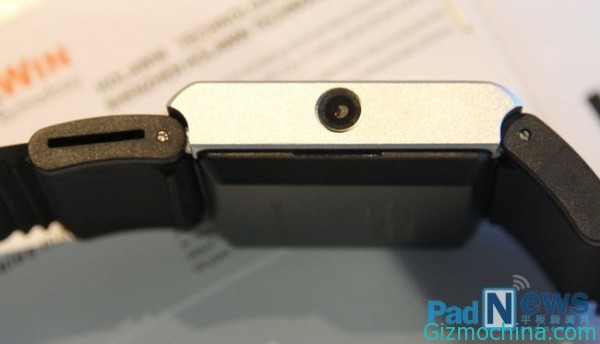 The watch is powered by MTK Chipset, support for text messaging and  has WiFi, Bluetooth 4.0 and GPS. This watch is also support for gravity sensor. In the other side of the watch there is a 3 megapixel camera and this device is salso support for video call. This watch is powered by MT6577 dual-core processor, support for 2G calls and access the internet via GPRS, running with Android OS 4.0 and coupled by 512MB of RAM and 4GB of internal storage. This device has 500mAh battery, that support for 180 minutes of talk-time and 100 hours of standby time.
Another products is come from Cedar Kingdom, this is the another smartwatch products from domestic market that also powered by MediaTek MT6572 processor, this watch is also supports for GSM 2G/WCDMA 3G calling, Internet, SMS, WiFi, Bluetooth, GPS and other functions. Screen is also 1.54 inches with a resolution of 240 × 240 pixels, support for touch. Interface design shows only four applications in each screen, so the touch operation is also relatively easy.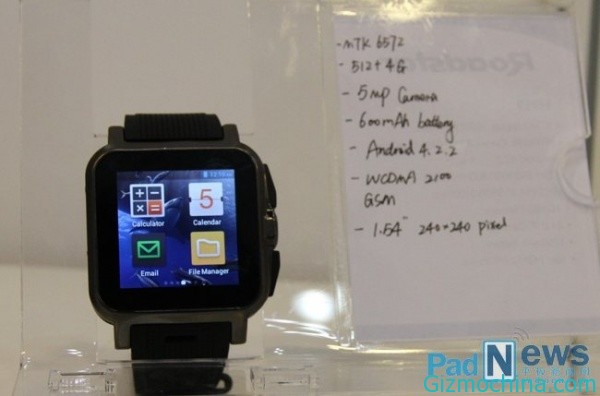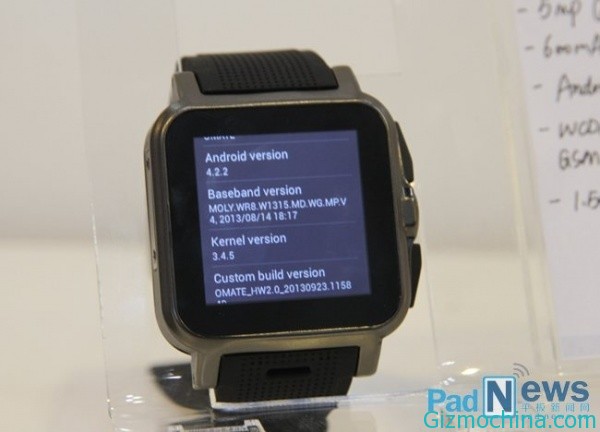 The smartwatch is running Android 4.2.2 Jelly Bean operating system. Sports with 512MB of RAM and 4GB of storage. There is 5 megapixel camera on the right side of the smartwacth body. SIM card slot is designed inside the body, if you want to open it does not seem very easy. POwered by 600mAh battery capacity.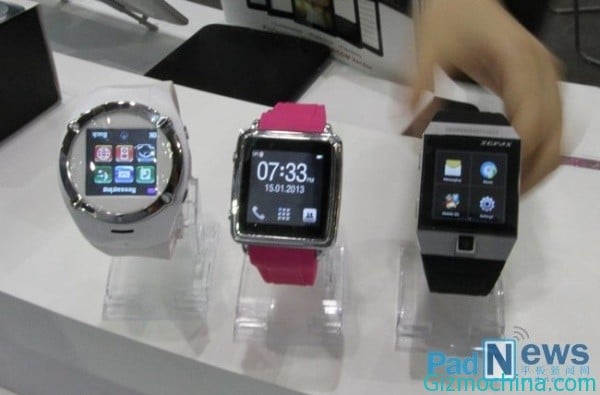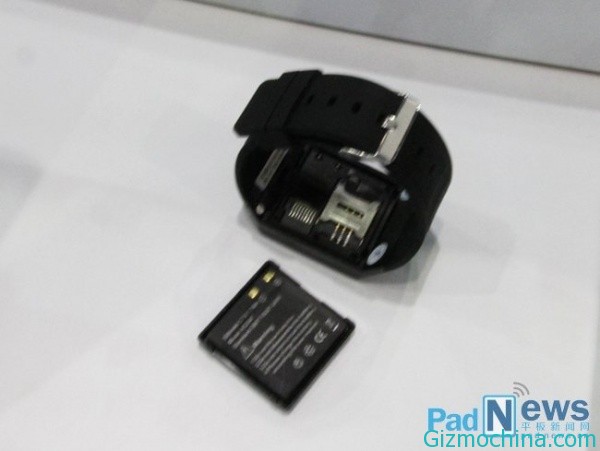 The three of smart watches abpve is come from the same company, but we don't get the name of vendor for now. The three of smart watch can only support touch, appearance design is also very beautiful. The thre of those products is targeting for several user, as you can  see on the picture above, the smartwatch has different feature, the smartwatch which is very suitable for video calls. On the top of the watch was comes with speakers, the screen si only offers four aplication.
The smartphone is using 1.54-inch touch screen with a resolution of 240 × 240, the processor, powered by MediaTek MT6577 dual core processor, sportws with 512MB of RAM and 4GB of storage, equipped with Android 4.0.4 system. WiFi, Bluetooth 4.0, GPS, 3G/2G call Internet access and other functions.