Asthon Kutcher becoming Lenovo employee?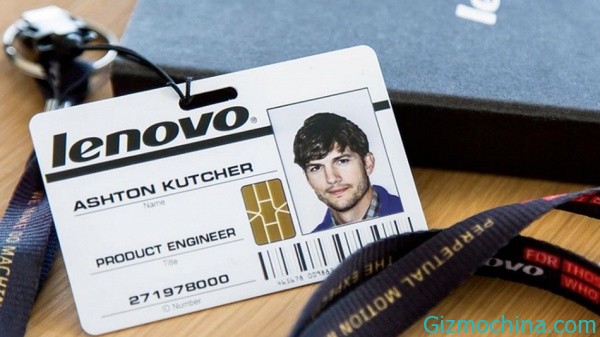 Lenovo officially released Yoga Tablet PC in Beijing today, and as we mentioned on our recent article before, Ashton Kutcher has join with Lenovo and appear on Lenovo's video commercial. Yang Yuanqing, chairman and CEO of Lenovo Group announced that Kutcher became Lenovo product engineers and personally to grant work card.

Lenovo senior vice president, Lenovo Business Group President Liu subsequent interview with reporters, that's why Lenovo is hire Ashton Kutcher for their company. Liu said Kutcher is not just a Hollywood actor, but he was an investment in technology, he is very interested in technology. If Lenovo chief accepts Kutcher for promote their products, as well as the value of the product experience. Additionally Liu also mentioned the hope to help Kutcher visibility and influence, to enhance the Lenovo brand value. As for bilateral cooperation, Liu said it was Kutcher initiative to contact them, then the two sides reached a cooperation.
Kutcher said the association with Lenovo is very interesting, he founded in the very difficult conditions created association, Lenovo is a great company that grow veru rapidly, especially when the company is acquisition of IBM's PC division, Lenovo is growing into a global company.
• Ashton Kutcher has becoming the Steve Jobs on the new movie title  "jOBS". After the news broke Kutcher and association reached an agreement worth $ 10 million, Kutcher became Lenovo's PC products brand spokesperson. Lenovo Group announced Tuesday, Asthon Kutcher identified to join the Lenovo Group, he will officially become Lenovo employees, product engineers and honorary spokesperson.
According to Lenovo side said Kutcher's team of engineers will work with Lenovo joint research Tablet PC design, software and usage scenarios.
Kutcher said, "I am very interested in science and technology, cooperation with Lenovo allows me the opportunity to put in technology, design and product experience and other aspects of the idea into practice, while YOGA tablet is that this all started."