MediaTek MT6592 true eight-core processor at a glance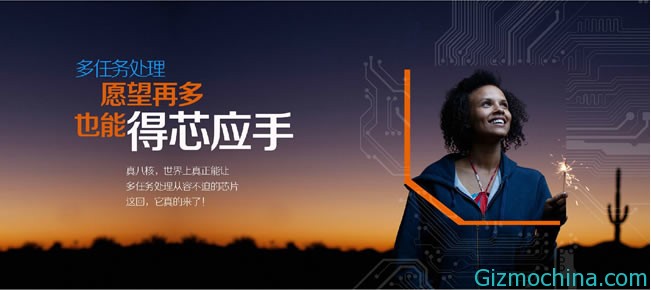 Recently we have heard about the new true eight-core processor MT6592 from mediaTek, and the official release will be held on November 20th in Shenzhen China, the event will called "true 8-core, core power" conference.
But before the official release, we have a little information about the MediaTek MT6592 processor, and here is the feature at a glance:
1. MT6592 is the first chipset to support H.265 video decoding. H.265 can be seen as H.264 video coding standard upgrade version, adding new technologies to improve the online video experience, only half the bandwidth H.264 to play the same quality of video, meaning that the source file is also smaller, the user can save more data-traffic.
2. The first chipset that has ClearMotion intelligent video frequency doubling technology. ClearMotion MediaTek's own research and development of new video technology, ClearMotion technical support, only 15/24/30fps be upgraded to 60fps video playback, allowing users to obtain a more clear, smooth level close to digital television experience.
3. Support MHL 2.0 (Mobile High-Definition Link2) standards. MHL 2.0 version of the previous generation based on the new pair of 3D images and Unicode encoding support, more faster for charging and its interface is compatible with HDMI, USB and charging port, MHL 2.0 has more smooth for HD output and better clarity.
4. Maximum support for 16 megapixel camera, to meet the future trends of camera-centric phones for photography.
5. Can support 24-bit high-fidelity audio.
6. Connecting the device acts as a specific SmartBook intelligent "Host", so that the end product is equipped with MT6592 have greater scalability, can be used with other devices such as flat panel TV, etc. to match, assemble with MT6592 Android terminal-centric notebook device.
7. Built-MAGE engine. MAGE interfaces by manufacturers to develop more cool 3D UI interface, such experience will be a live demonstration of the prototype, unlock the interface can not only play video and mobile phone wallpaper can be more interactive.
8. Support for Google Android 4.3 Jelly Bean and Android 4.4 KitKat operating system.
MediaTek MT6592 is the first eight-core chipset products, but it's also the world's first truly supports eight core synchronization smart phone chips, MediaTek to enter the high-end an important step in mobile processor industry and they ready to announce this processor on November 20th.