Gionee release two new smartphone for Chinese market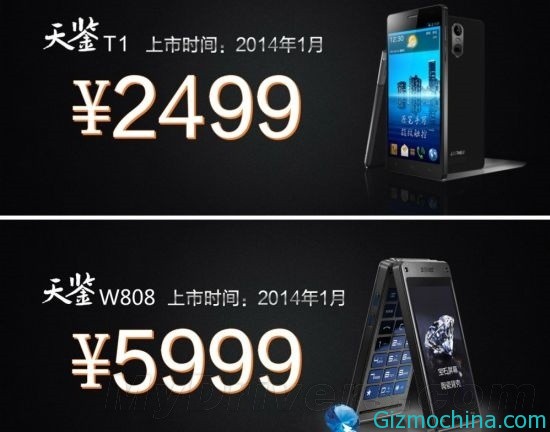 Gionee has held a conference in Beijing, and they have a release of two new phone model, called Gionee W808 and Ginee T1 smartphone.
Interestingly, the W808 will offers with 5,999 yuan or around $991 USD and teh Gionee T1 will offers with 2,499 yuan or around $412 USD price.

The Gionee W808 wil offers with a high price for around $991 USD becuase W808 uses a high-end business phone than usual, the phoe has a dual-screen clamshell design, the body uses a metal material, sapphire screen material, Jinli Xuan said the W808 is the world's first product sapphire phone, and iPhone 5S , contrast sapphire area vertu phones with absolute leader. While the back body is uses the nano-ceramic build material.
The flagship Gionee W808 dual touch using 3.7 inches screen with a resolution of 800 × 480 pixels, and has 8 megapixel rear illuminated camera. Support for WCDMA + GSM dual card dual standby, support handwriting keyboard dual input, equipped with dual camera and dual-spindle, double charge.
The other, a Gionee T1 owns the "original pen writing track" and fingerprint-touch technology (similar to the Samsung Note Series, the machine is equipped with an electromagnetic stylus, enabling gesture suspended operations and command functions. Moreover, it also supports fingerprinting and back touch.
Hardware configuration is equipped with a quad-core 1.3GHz processor, 5.5 inches screen and 720P 3000mAh battery, built-in 16GB ROM and 1GB RAM, packs with 8 megapixel rear camera and 2 megapixel front facing camera.
At the press conference, Jin's product line will be divided into series for young people and for business people, and mentioned in 2013 in a foreign country has sold 10 million mobile phones in the first half of this year will launch several 4G phone.