Alcatel One Touch Pixi 7, WiFi tablet runing with KitKat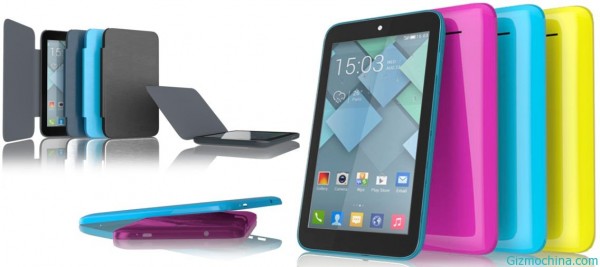 Alcatel is not only offers their smartphone products, back  a week ago, we found another products from Alcatel, that's the Alcatel One Touch Pixi 7, this is the cheap Android tablet from Alcatel.

Alcatel OneTouch Pixi 7 is the tablet with WiFi only, this offers the basic specs and there is no cellphone features, the screen is packs with 7 inch display with 960 x 540 pixel resolution, powerd by MediaTek MT8117 dual core 1.2Ghz processor. This tablet is sports with 512MB of RAm while the other version is sports with 1GB of RAM and both version wil be has 4GB of internal storage.
This is the one of budget tablet device, and the specs is not too hugh while this tablet is sports with VGA camera in the front and rear facing camera..
This tablet is running Android KitKat and available in cheerful color, and ready to hit the market on July with only $110 USD price tag. This tablet will be sold in  in Europe, the Middle East, and Africa.