OnePlus smartphone scetch and benchmark is leaked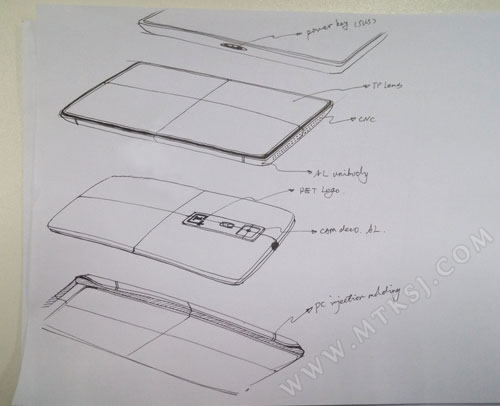 OnePlus one smartphone will be launching on the near future, the phone is also confirmed to powered by Snapdragon 801 chipset and running Android 4.4 KitKat based on Cyanogen Mod 1 ROM.

And now we got another leaked information about the phone that the phone will has 2GB of ROM and 16GB of internal storage, while the recent rumor is says that the OnePlus One will powered by Snapdragon 801 processor but in the Benhmark test, the phone is powering up by Snapdragon 800 MSM 8974 300 Mhz ~ 2265MHz processor.
The Phone will be sports with Adreno 330 GPU, and has 5,5 inch screen size that has 1920 x1080 pixel resolution, and coupled with 5 megapixel front facing camera and 13 megapixel rear facing camera.
In adition the AnTuTu benchmark, we also found the phone sceth that look nice with the design concept, the logo will be placed on the rear body of the phone under the main camera with flash in same area.The phone wil also has a security that using voice to unclock the phone. So let's wait for the official release!