The Keen Team, a Chinese hacker who win the contest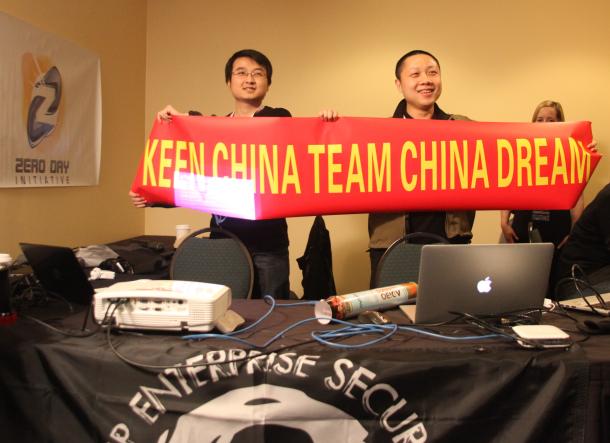 On March 14th, there is a hacking contest that held in Vancouver, Canada, and the hacking contest winner is come from China, by The Keen Team, who sucessfully knock over Apple Safari in the Pwn2Own contest.

Keen Team consecutive break Apple's latest 64-bit desktop operating system (MacOS X Mavericks 10.9.2) and Microsoft's latest Windows 8.1 64-bit desktop operating system, the Keen Team has won the Pwn2Own contest. Along with Keen Team, there is a Vupen security research team from France, they winning after exploit for Google Chrome browser.
For the Keen Team, this is the second time they won the competition, back in2013 they also win the hacking contest in Tokyo, Japan Pwn2Own Mobile 2013 since they successful to break Apple's latest mobile operating system iOS 7.0.3.
Since then, Keen Team Pwn2Own contest to become the first team to desktop operating systems and mobile operating systems break all world-class security research team, is the only team to participate in the history of China.
Pwn2Own as the world's most famous hacking contest, because it reflects the technical requirements of the world's most advanced computer exploits technical level.
Pwn2Own, sponsored by Hewlett-Packard and organized by the HP-owned Zero-Day Initiative, featured up to $1.085 million in prizes, and security researchers going after Adobe Flash and Reader, Apple Safari, Google Chrome, Microsoft Internet Explorer, and Mozilla Firefox.
Eight research teams earned $850,000, with another $82,500 going to charity for Pwn4Fun over the two-day competition, which concluded on Thursday at the CanSecWest conference at the Sheraton Wall Hotel here. HP has summarized results for Day One and Day Two
The new Pwn4Fun charity contest saw Pwn2Own co-sponsor Google nailing Apple Safari for $32,500, while Pwn2Own organizer Zero-Day Initiative hit Internet Explorer for $50,000. Both teams donated their prizes to the Canadian Red Cross