Gizmochina Giveaway: Win A Waterproof Doogee Titans DG150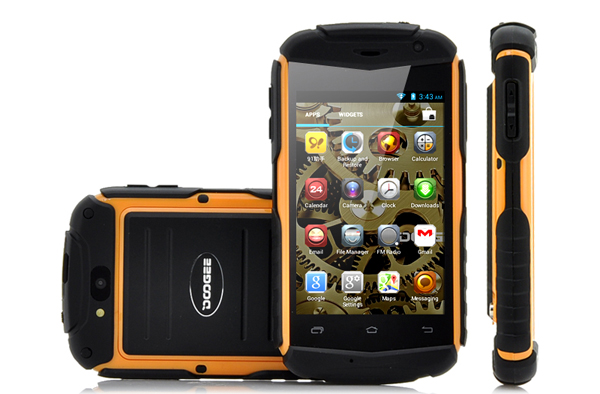 Wow, great news: it is time for a great giveaway contest! Doogee Titans DG150 Coupon and Giveaway Activity, an amazing opportunity to win a tri-proof dual core Smartphone! All you need to do is to participate and win this really easy activity and get a phone delivered to you for free. The offer is to "Share & Win" where you share and you win. It is as simple as that.
To feel the quality of the build of this phone, all you need to do is to take it in your hands. Anybody who owns this phone will vouch for the fact that it is the most durable phone in the market right now. You can drop it multiple times and it will not be damaged. This is because of its powerful and shock proof design. It has rubber padding on it which takes all the beating for the phone. A supreme quality like this makes it a better smart phone in the industry compared to its cheaper counterparts. If you are a rough handler, this phone can endure the bumpy ride. What is better is that even the screen is not prone to cracks. This phone is built to last.
Doogee Titans DG150 comes with an Android 4.2 Jelly Bean Operating system where you can access the Google play store directly and download all the applications that you like. The screen size of 3.5 inches is perfect to fit in your pocket as well as make a comfortable view if you want to indulge in movies, games or net surfing on your phone. You also get a 2 megapixels back and 1.3 megapixels front camera, the best in it's class. The resolution of 320×480 gives you the perfect view of the activities on the phone whether it is video games or social networking.
You can buy this Doogee Titans DG150 phone at here.
Summary…
DOOGEE TITANS DG150 Android Smart Phone for rugged use
MT6572W Dual Core 1GHz CPU (Jelly Bean operating system)
3.5 Inch Screen
Shockproof
This original, waterproof, smart android phone can be all yours if you just follow the steps below.:
Promotion Activity
$8 coupon will be given to buy Doogee DG150 for the first 20 customers.
Giveaway Activity
a. Like and Share this news to any of your social networks such as Facebook, Google plus, Twitter or any other. OR write reviews about this or post the news to other websites and forums.
b. Email the screenshots of what you shared or the links to your posts to our email address ([email protected]) after the activity is over.
c. Top 3 most popular sharers can get this free Doogee DG150 when the contest is closed.
d. A big coupon will be sent via mail to the rest of the participants when the activity ends. You can use this coupon to buy any phone you want from us. And the coupon value depends on numbers that you share. With ore shares you can get a higher value of coupon.
More details about this giveaway, please visit: http://www.1949deal.com/doogee-dg150.html
Meet one of the following requirements to be top 3 sharers:
(1) Get the most number of "Like" and / or "Yes".
(2) Most number of forwards of your link.
(3) Your posts attract maximum comments.
(4) Write reviews or post our website promotion news on other websites or forums.
Here is 1949deal giveaway page on Facebook: https://www.facebook.com/1949deal/posts/589820701124785
You can buy this Doogee Titans DG150 phone at here.