Lenovo and Huawei are Gaining on Apple and Samsung
According to the recent data released by Strategy Analytics, the smartphone market continues to expand. The shipments that have been allocated around the world are 33% higher in the first quarter of 2014 than they were in the last quarter of 2013. This means 281 million more smartphones are in circulation!
What may be surprising to some is that the manufacturers of these top selling smartphones have some competition on their heels. Apple & Samsung are the leaders, but Lenovo & Huawei are gaining on them. These latter two manufacturers are considered to be second tier. However, they continue to offer more and more, and consumers are taking notice. They can get the features they want for a lower price.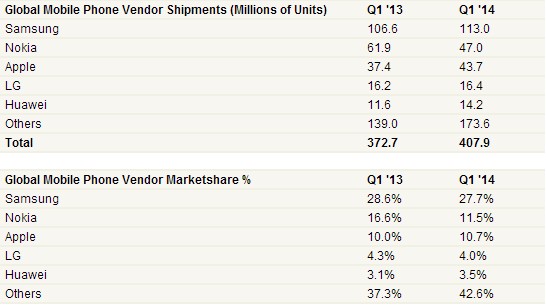 Lenovo is in the process of taking over Motorola, and that means they are going to continue to be fierce competition. Microsoft is finishing up a deal with Nokia, so be ready for some big changes to show in the figures for the second quarter of 2014.