ZTE Nubia X6 sold out for only 9.8 seconds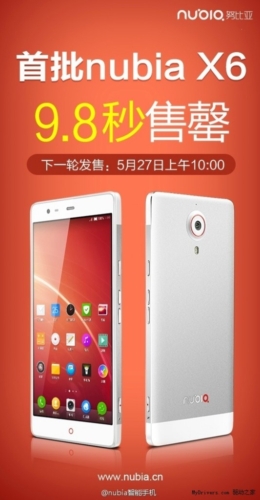 ZTE has been unveiled their new flagship smartphone, ZTE Nubia X6. And now we found the interesting news that the ZTE Nubia X6 is sold out for only 9.8 seconds. The Chinese manufacturer did not mention a specific number of units sold, thus leaving some room for interpretation on the magnitude of the achievement.

Before now, Xiaomi is always sold-out in very fast time, they have sucessfully sels the Xiaomi device less than five minutes, but now ZTE has break the new world fastest selling smartphone.
ZTE smartphone will sell on May 27th at 10:00, but there is n information, how much the units of ZTE smartphone tha already sold-out.