ZTE Nubia Z7 Price Is Leaked Before Official Release
As the World Cup starts, cellphone companies have been making World Cup-themed products to promote sales. Yesterday, Nubia announced in their official Weibo account that they will hold an exclusive "World Cup Carnival" in QQ. Those who participate in the event will get the chance to win a free trip to the winning country, a ZTE Nubia Z7, a pair of Hi-Fi earphones, and other World Cup-themed prizes.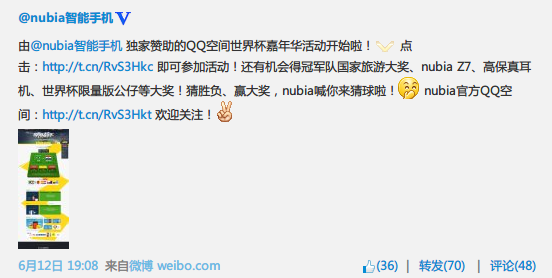 But some netizens read in the prize column that the ZTE Nubia Z7 will cost 2999 RMB. As everyone knows, the Nubia Z7 is Nubia's newest flagship phone but its actual selling price has not been announced. It's unclear whether the listing of the 2999 RMB price was a mistake or an actual announcement by Nubia.
The ZTE Nubia Z7 uses the Snapdragon 805 processing chip and has 3GB RAM, a 5-inch 1080p display screen, and a 16mP VR lens camera. It hits stores this July!