Review: Vivo XShot has the good quality smartphone-camera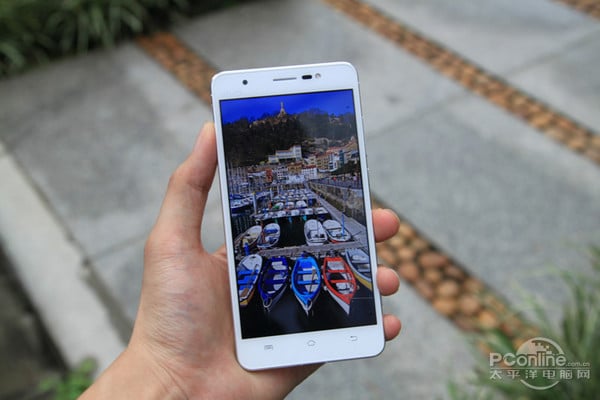 Vivo has been released the new Vivo Xshot at Beijing last month, this phone is becoming the new flaghsip 4G  smartphone in the market. Vivo Xshot brings F1.8 camera aperture and the camera has optical image stabilization with LED flash light.

The Vivo Xshot is also has 13 megapixel rear facing camera and has 8 megapixel front facing camera, both camera is very powerfull for take a picture, even when you want to take a selfie picture since the front facing camera is comes with 8 megapixel.
The Vivo Xshot Ultimate version smartphone is powered by Qualcomm Snapdragon 801 (8974AC) processor, spoprts with 3GB of RAM and 32GB of internal memory, support for 128GB of sd card. The screen si packs with 5.2 inch screen size with 1080p resolution, equipped with Hi-Fi chipset.
The ViVo XShot is running Funtouch OS 1.2 over Android syste, the phone is also comes with LED flash ligtht, support for 5-mode 13 band dual 4G network, built-in 2600mAh battery.
While Vivo XShot Elite version is powered by Qualcomm Snapdragon 801 (8974AA) processor, sports with 2GB of RAM and 16GB of ROM, the phone is offers with 3498 yuan (about $561 USD) for premium versin and 2998 yuan (about $481 USD) for standar version.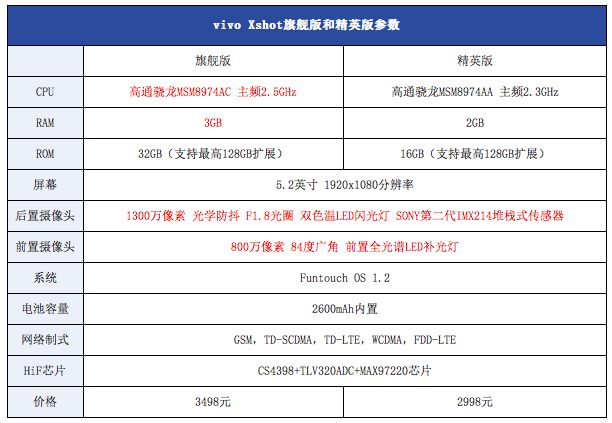 Appearance Design
Vivo Xshot smartphone has simple design. This phone is adapt from Xplay series Vivo smartphone, it also has its own iconic features, let's take a look vivo Xshot appearance appreciation.
The Vivo Xshot is using 5.2 inches 1080P resolution, IPS screen material, the body has 146.45 × 73.3 × 7.99mm dimension, 148g of weighs. Pure white front panel, and the frame is made from metal material. The phone back body has curved design along with rounded corner deisgn, the rear camera is nice and powerfull since comes with a lots of features. The whole material is very comfortable and smooth.
Vivo Xshot has nice design, comes with light sensors, microphones, cameras and LED flash light, this is a unique pre-Xshot full spectrum LED lights.
Vivo Xshot has the familiar three virtual keys under the screen, menu key on the left, Home key to put the middle, the return key on the right. But its surface is coated with a reflective coating, no backlight button.
Vivo Xshot border from top to bottom on the right side are the volume keys, power key, and physical camera button. Which, vivo Xshot camera button has two camera button, half press focus, full press to take pictures, and the camera get considerable operating experience. Another black screen, long press can also quickly access the camera program, want an instant snapshot without a miss.
In addition, Xshot offers Micro SIM cards and SD memory card combo patented design, Xshot support up to 128GB of storage space expansion, which is like storing high-definition music and video users is absolute great for multimeidia and photography enthusiast.
Vivo Xshot headphone jack on the top of the middle position, the secondary microphone on the side. The bottom line cathartic arc, usb hole in the middle position, the microphone hole on the right. Two holes on what is an ideal design, while plug headphones and data lines.
Vivo Xshot sinking huge back camera adopt the second-generation of stackable Sony camera sensor with 13 megapixel sensor with F1.8 large aperture and optical image stabilization feature, but the side with a color temperature of LED lights. Of course, the camera is projecting more tangled many users, fast hardware components.
Speakers on the back near the bottom position, the back has a big arc, thus putting the flat on the desktop is not much sound attenuation. In addition, we can refer to the fuselage and contrast vivo Xshot vivo Xplay3S of 5.2 inches of 6.0 inches, the front is almost twins, back on their own characteristics.
Vivo Xshot using 5.2 inches 1080P resolution, with 146.45 × 73.3 × 7.99mm body dimension, and has 148g of weight. Pure white front panel, and the frame made of metal. The whole design of the this new Vivo series design style is a continuation from Xplay series. One major feature is added to the two-stage camera key entities, half press focus, full press to take pictures, and the camera get considerable operating experience. And the user can activate camera directly  while screen is lock.
Screen performance
Vivo Xshot using 5.2 inches 1080P resolution display, the pixel density is 423PPI, made of IPS screen.The screen has 2K display and offers better and clear quality screen.

Vivo Xshot actual screen color reproduction is very accurate, no color cast, and light leakage phenomenon.
White screen is also more accurate, there is no obvious warmer and colder. Viewing angle is also great since the phone is uses IPS screen panel technology, so the screen viewing angle is also very large, does not appear washed out and cast.
The 5.2 inches 1080P screen specifications is equivalent with most of the major flagship phone configuration, so also confirmed the accuracy of the problem had been fully meet the needs of the human eye, with the camera can only see a little jagged.
Top hardware configuration
The Vivo Xshot Ultimate version processor is using Qualcomm Snapdragon 801 (8974AC) processor, sports with 3G RAM +32 G ROM, maximum 128GB expansion. While the Elite version is uses a Qualcomm Snapdragon 801 (8974AA) processor, sports with 2GB of RAM, the same as the rest of the configuration. And we test the Vivo Xshot Ultimate version.
From the bechmark test, the phone get 37,104 score, higher than the previous test thatuses with prototype device, and in fact this final version is offers more powerfull specs.

Master Lu phone evaluation score of 38,004 points, the browser evaluation score of 33,203 points, there Xiaolong 801AC blessing and 3GB of memory, performance is outstanding natural.
Web Testing and graphics tests are expected to get good grades, this phone has top notch performance.

Battery life
The phone is packs with built-in 2600mAh battery capacity, we conducted several simulation scenarios to see how the Vivo Xshot battery consumption, the power saving mode is not enabled by default.
We used the phone for browse microblogging website, online video, play games and medium-sized power consumption of the other phones we've tested roughly, but as a camera phone, camera test power consumption is relatively large projects since need more battery consumption, small sample with a power consumption of about 30 minutes shooting adn eat 15% of battery, to using camera features is need power-hungry. 
Power-saving settings, super power saving mode
Camera interface description
Vivo Xshot is the one of camera centric smartphone, and this phone can produce nice picture. The smartphone camera uses f/1.8 large aperture lens 6P, resolving power increase of about 10%, clearer picture quality. With a color temperature that supported from dual LED flash light, get as close to natural fill light.
This phone is using Sony second-generation optical sensor IMX214, has the ability to control noise in low light conditions. Xshot using two sets of lens optical image stabilization can move the motor so that it can greatly reduce the jitter due to shoot instant impact on image quality. In addition, Vivo Xshot has two-stage camera button, half press to find the focus, full press to take pictures, and the camera get considerable operating experience.
There is a packs of Photo Filter effects, the user can choose a watermark, LOMO, fresh, retro style, etc., that we are more familiar. we also has conventional camera settings as well as photo size, shutter sound, touch screen camera, taking pictures delay, voice camera functions.
Front camera effects
In addition to powerful rear camera, front facing camera is also good since the Vivo front facing caemra can take the better quality picture. Here is the picture example that taken with Vivo XShot front facing camera.
Left: ordinary dark light environment; Right: On the front lights
As you can see under the normal light conditions, we get nice photo effects, screen dark, lack of detail, the characters lack luster skin. Open the front and rear lights, not only significantly enhance the brightness and picture detail, and the true nature of skin color.
AR Beauty is in real time in the viewfinder when taking pictures you can see the effect directly, without further post-processing of the input capture. So glamorous doubling efficiency, the system provides a natural and fresh, Flaming Lips, etc. 5 makeup, like real-time based on switching.
Rear camera performance
Let's look at the use of color temperature from Vivo Xshot dual LED flash, use bright LED white light + perfect combination of warm light, real-time detection of ambient brightness and color temperature, respectively, to adjust the brightness of the two flash, dynamic compensation of the red and green spectral.
Color temperature LED light on Apple iPhone 5s and HTC One M8 and other models are used, the fact that compared to the single-color, the phone is look natural.
Super Night Shot
Here we look at the specific effects from Vivo Xshot photo example, from Vivo XShot night shot feature.
Normal mode
Night mode
In fact, in the normal mode camera, night performance has been better than any other camera phones, and smart night, the brightness is further improved and the details are not lost. The actual shooting night, night mode provides very awesome lighting effects, beautiful proofs. And because the role of optical image stabilization, night shooting is mostly perfect.

Smart bokeh
With f/1.8 large aperture, depth of field effect has been very good in theory, and here is the sample picture

Macro mode,  enlarge to 100%
Many cell phone camera has the depth of field blur algorithm functions, but both the background and the main interface is not very good, but you can see on the example picture above, Vivo Xshot has nice bokeh effect since the effect is look very natural, not only to focus on the subject more prominent, and close down Details keep very well.
Interesting food model
Vivo Xshot has very interesting feature, will automatically recognize the object when shooting the food, food mode automatically switches, this perfect mode for taking the food. 
Good balance
As for taking pictures in your daily habit, the  Vivo Xshot to feel small series is very accurate white balance, especially when taking pictures indoors encounter complex lighting, the Vivo Xshot able to maintain a good balance at different angles, very commendable.
After you take the picture, you can add the watermark effect directly on it's phone. And as the camera-centruc smartphone, the Vivo Xshot is offers nice camera features.