Faster than the "fastest cell phone on earth?" Coolpad's new phone scores 44785 in Antutu benchmark
Yesterday, Xiaomi boasted that the just-launched Mi 4 was the "fastest cell phone on earth. However, it only got around 3700 in its benchmark test which led to online debates over whether or not Xiaomi was just full of hot air. Today, we received a snapshot of the Antutu benchmark test results for a mysterious new phone by Coolpad, and it does not look like Xiaomi's boasts are based on facts.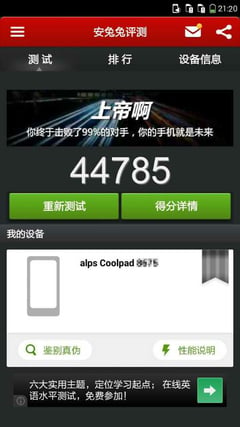 The device's model number is blurred but we can see that it starts with an "8" indicating that this is not a flagship phone but part of a series of products that support China Mobile Internet. As the photo shows, this device scored 44785 points in the Antutu benchmark test, which is higher than many high-end phones out right now, including the recently released Xiaomi Mi 4.