Nibiru to release red and light green editions of Mars One on July 28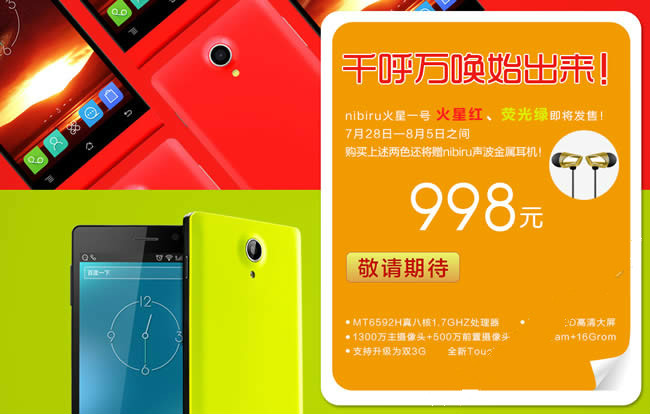 Nibiru recently announced that they will release a red and light green version of the successful Nibiru Mars One (H1). The H1 is currently available in white, pink, and blue. Increasing the number of colors should attract many users who are concerned about aesthetics, especially women. These two versions are slated to hit stores on July 28 and will still be sold at 998 RMB (161.17 USD). Those who buy the red and green H1 before August 5 will received a free pair of Nibiru metal earphones.
Their specifications are still the same. They use the MT6592H octa-core processor, support dual-SIM 3G (TD+SCDMA and WCDMA), sport a 5-inch 1080p display screen, and a 5mp/13mp camera. They also have 2G RAM and 16GB internal memory space and are powered by a 2000mah battery. Their operating system is the Touch OS.