Xiaomi Mi Talk Reaches 70 Million users. App to get an update soon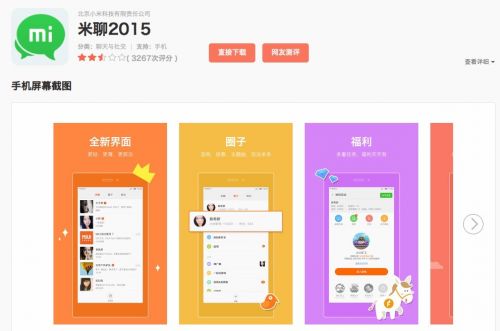 Xiaomi has updated its messaging app, MiTalk also known as Mi Liao. The update is known as MiTalk 2015. The very first mobile messaging app from Xiaomi, MiTalk was launched four years back in November 2010. This MiTalk was launched way before than WeChat by Tencent. These messaging apps from China based companies like WeChat by Tencent, MiTalk by Xiaomi, Kouxin by Qihoo have proved a real threat to the well-established messaging apps like Kik and Talkbox.
WeChat was the most dominating app in China's smartphone market before the launch of MiChat. Lei Jun, CEO and co-founder of Xiaomi in an event, mentioned that if Tencent would release its messenger WeChat 6 months later than the MiTalk then definitely the Xiaomi's MiTalk would be a hit. But Tencent released WeChat within two months of the launch of MiTalk.
Xiaomi never felt under confident and always tried hard to be the best in the field of instant messaging. MiTalk managed to survive in the presence of WeChat. Xiaomi has claimed that MiTalk has got 70 million users out of which 7.5 million are active every day. Last month company has confirmed this news of 70 million users all over the world.
The company has now decided to revamp the MiTalk. The new updated version MiTalk 2015 will have some new features for instant mobile messaging and a supercool feature of integrated music streaming services. The app will also have Xiaobing, Baidu Maps, etc.
This new app will also have some social networking angle in it. So, on the whole, Xiaomi MiTalk will be presented to users with complete makeover.