Doogee DG900 Review:Poor Battrty Life Ruined a Beautiful Phone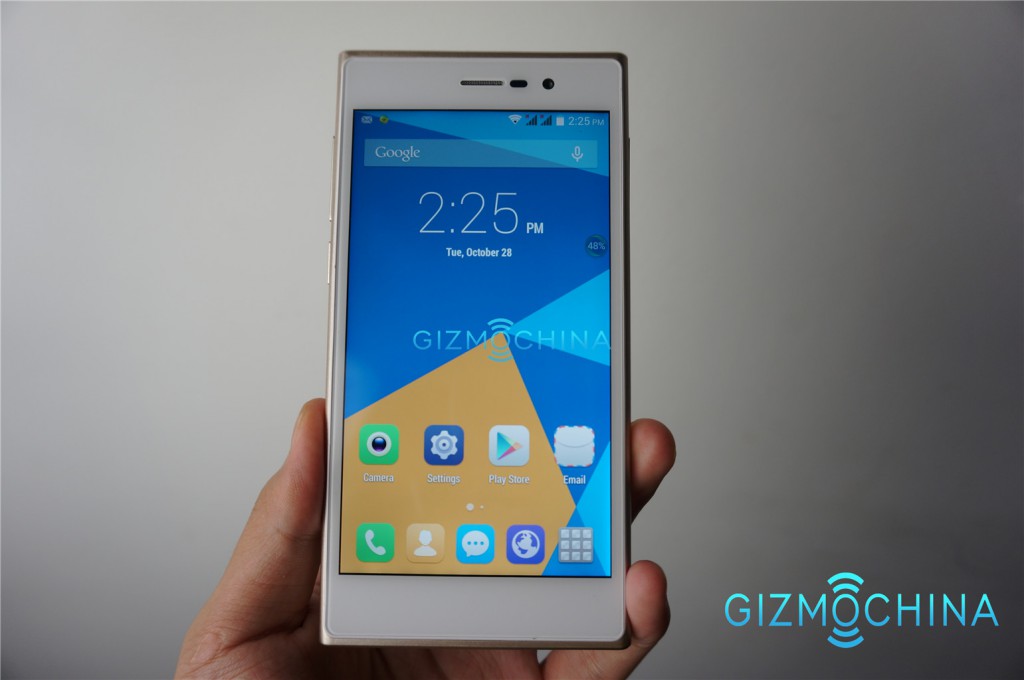 The Good/ Very light to hold, fast octa-core processor, premium-looking device at an affordable price.
The Bad/ Battery life is as poor as iPhone6  , Doesn't support LTE.
The Bottom Line/ The Doogee DG900 is a great device to consider if you're looking for a smartphone that stands out with its looks.
Doogee DG900's design borrows liberally from Gionee Elife S5.5, but it also possesses a lot of unique features that let it stand on its own. Doogee DG900 is a beautiful glass phone no matter how you look at it. The DG900 from Doogee is not just another fancy little device with some moderately identifiable features. It is a plethora more than that. The handset rides on the back of a pack of astounding specs to claim its share of the limelight. A 5 inch screen, the MTK6592 1.7 GHz Octa core processor, 16 GB user memory, 2 GB RAM, 13 MP rear lense, and the 5 MP front camera are equal stakeholders in the claim. All of this is bundled into the Android 4.4 KitKat. Here is a spec-to-spec Doogee DG900 Review of its latest Smartphone, Doogee DG900 Turbo2, which is all set to take you by surprise with its superb features.
DESIGN
The Doogee DG900 Turbo2 has a brilliant body design which one is sure to love. It is an ultra slim smart phone having the dimensions, 153 x 76 x 6.9mm, and weighs just 134.4 grams which makes it easy and good to hold. Its body is plated on the back and has a crystal finish on the front screen. Even the screen frame is thin and measures just 2.2mm. Moreover, it has a sharp rectangular design made around a strong chassis with the volume and power key provided on the left side. This phone is available in two colour choices too, black and white. It is needless to say, that this phone has awesome looks which is a treat to the eyes.
DISPLAY
Display is yet another area worth appreciation in this Doogee DG900 Review. It features a 5.0 inch and 5-point Capacitive IPS Touch screen which has a full HD resolution of 1920 x 1080 pixels and pixel density of 441 ppi. This makes the images look crystal clear, sharp and vibrant. Another great thing is that it is equipped with two 5 inch 3rd generation Corning Gorilla Glass, instead of a single panel; one protects the front Touch Screen while the other is for the back of the body as the back body also has a touch panel. This makes the Smartphone, three times more resistant to scratches and any kind of shocks.
CAMERA
DG900 comes with 8MP 88º wide angle front camera and an 18 MP rear camera according to the official specifications listed on the website, however there seems to a major flaw in the details given on the website which is contradicting, the headline says 18MP but if you scroll down you'd see in the description that it is actually a 13MP rea camera. We didn't know what to believe until we tried the phone our self and the 13MP rear camera is the real camera spec indeed. The DG900 uses IMX35 Sony's sensor for its 13MP rear camera. Also the front camera doesn't really seem wide angle at all, we can't confirm the claims but the result of the camera is below, so you can be the judge of it. Our experienced opinion, this ain't wide angle.
Processor and Performance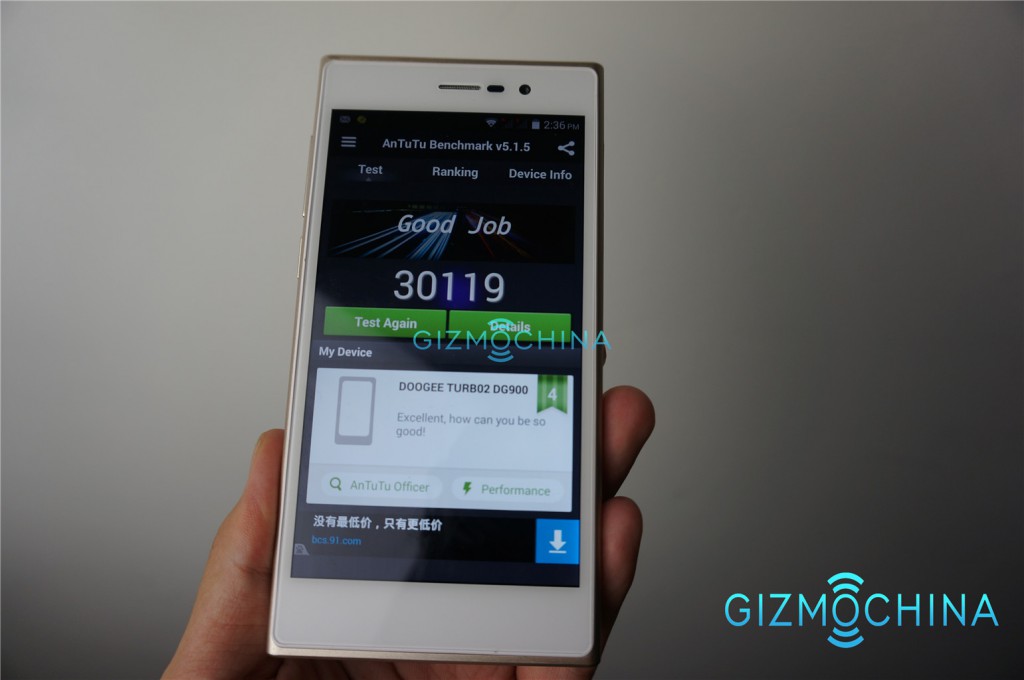 Powered by Android 4.4 (Kitkat), DOOGEE Turbo2 DG900 has MTK6592 Cortex-A7 Octa Core processor with a processing power of 1.7GHz. The Octa Core performance is complemented by a whooping 2GB RAM and 16GB ROM. This smartphone really comes packed with just too many high-end features, but does it then live up to the expectations? Obviously such a super charged device would run heavy games as well as play 1080p full HD videos smoothly, but when we put the device to test we had some mixed results. The game performances had been is immaculate. We ran some hi-end graphics intensive games, which did show minor jerks here and there, but the  overall experience was quite decent. However running 1080p Full HD video experience was not up to the par. Doogee DG900 stuck often and the video skipped frames, so we can't truly say you should play 1080p videos  using it, you can record 1080p videos  but try watching 720p videos on the phone for a smoother experience. One definite problem we experienced was the heating up of Doogee DG900, which is quite acceptable if you're playing heaving games on it, but the speed at which it heats up is kind of alarming, but then again it might be an issue with the handset we got for review. Another reason we can think of is the Octa Core processor, the MKT6592, the chip itself might be heating up due to the design factor of the phone, the full HD screen and gorilla glass on either ends. OPERATING SYSTEM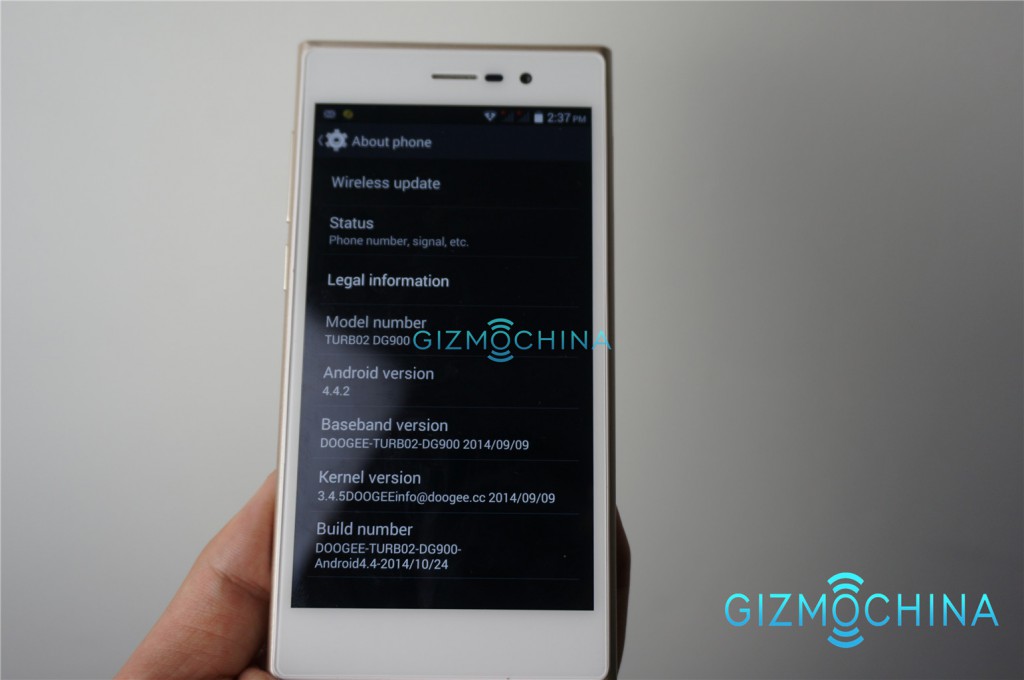 Doogee DG900 uses the most popular operating system in the world: Android. It has Android KitKat v4.4 installed which lets you have the familiar and user-friendly interface. This also means that you will have access to more than one million applications that can be downloaded from Google Play Store, from health apps to games to music apps, all in the palm of your hand owing to its superior processor.
Rear Touch Panel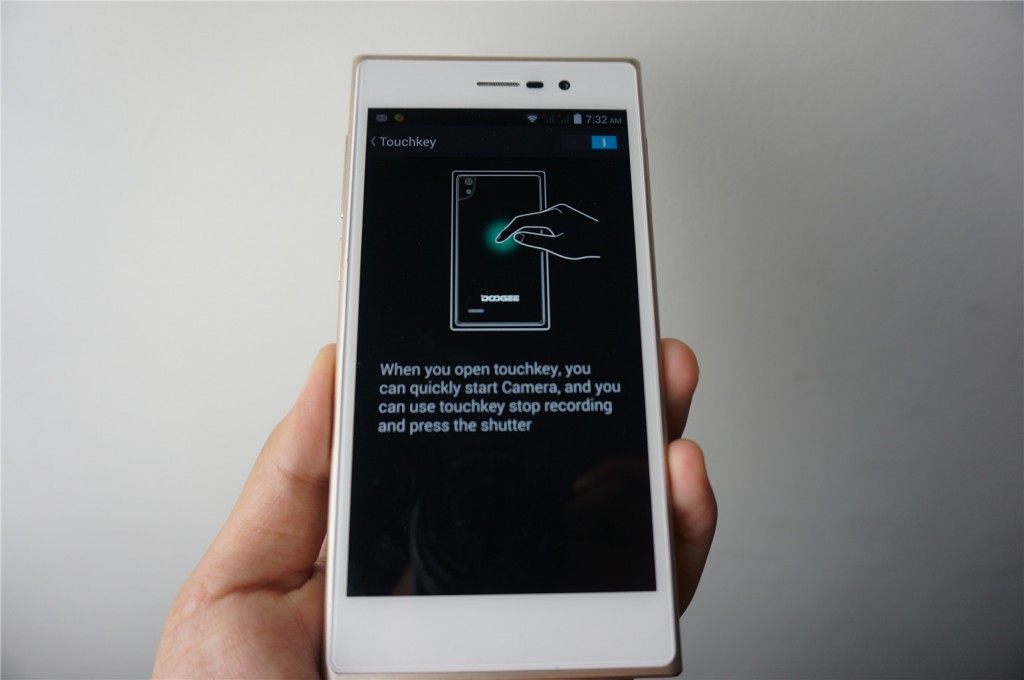 The back side of the Doogee DG900 comes with a touch sensitive panel, which is a refreshing add on to the smartphone market. Double tab on the back opens up the camera app, this feature is being marketed as a single handed selfie mode. So if you're one of the millions who love taking selfies, this feature might come in very handy to you.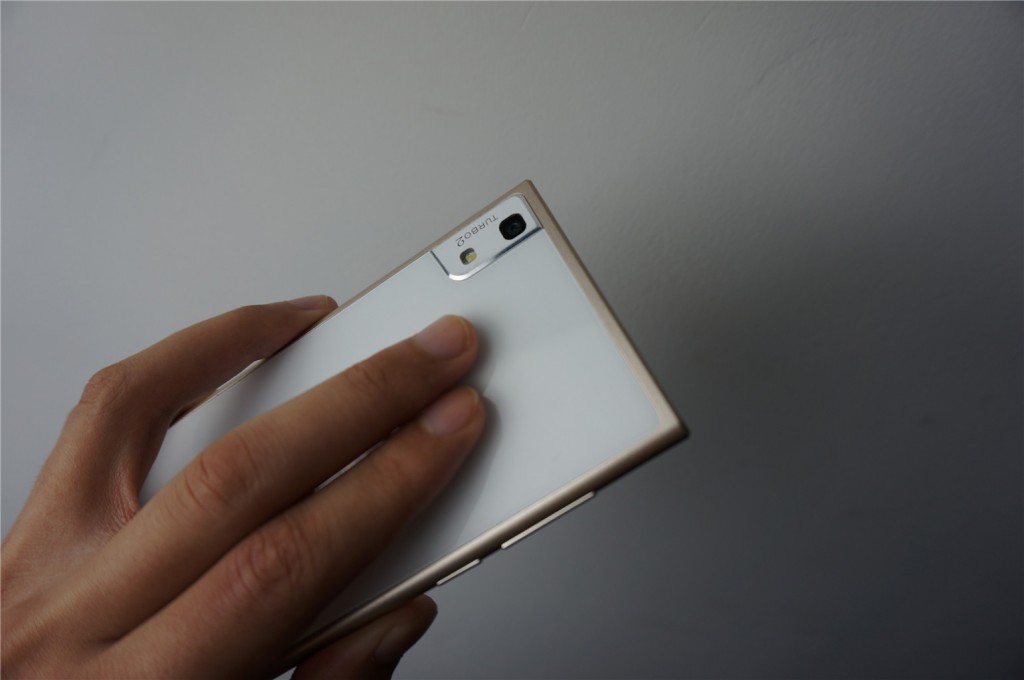 The only annoying thing is, if you accidently tab or touch the back panel, while keeping the phone in your purse or pocket or even while playing games, the camera pops open. We personally found it very distracting while playing games! This feature can thankfully be turned on or off from within the phone settings.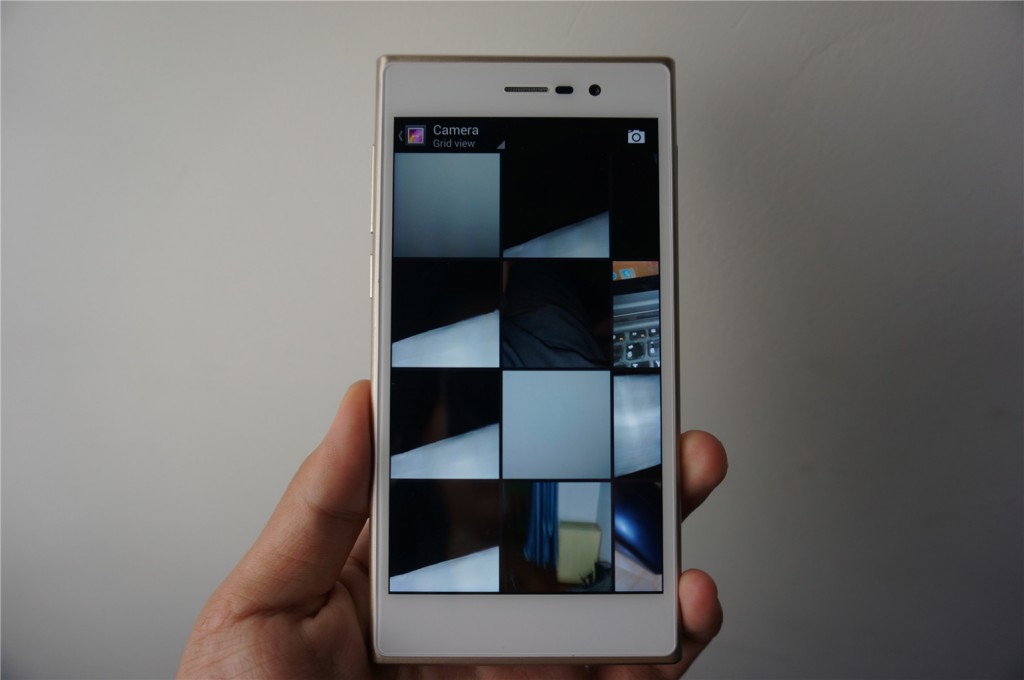 Irrespective of how us boys think, the female squad at GizmoChina have only flowering words for this new feature and unanimously have voted this to be one of the best new features in a smartphone.
OTHER FEATURES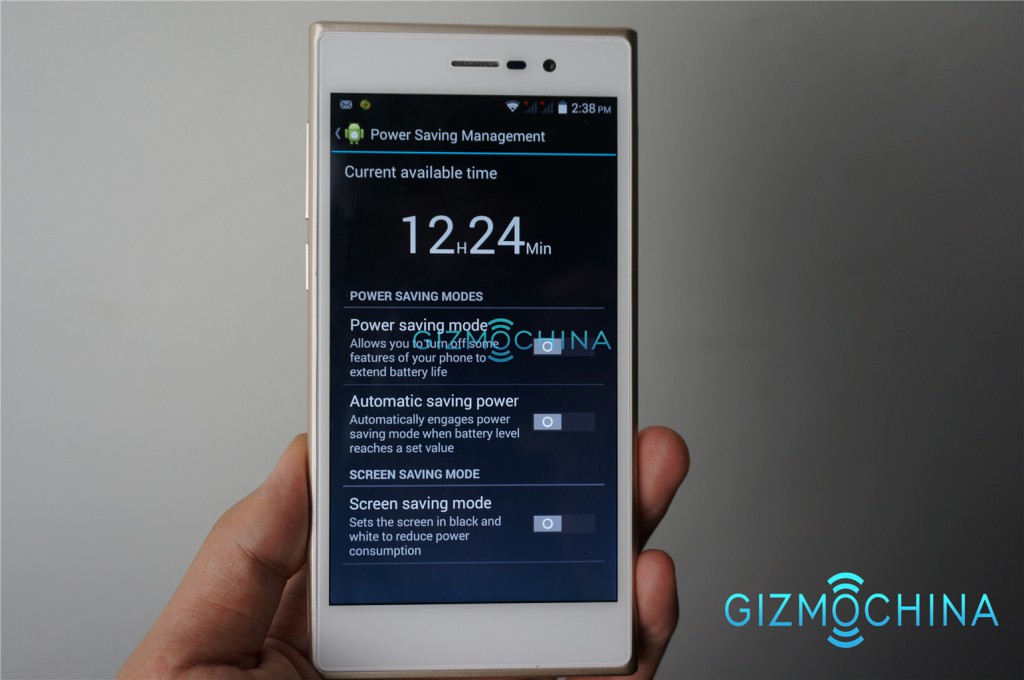 Apart from all these major features, there are many other features that make this device a great choice when it comes to high end smart phones that I need to show in this Doogee DG900 Review. It also has dual SIM slots. You can extend its memory up to 64 GB with TF card. It features 16000K colours in display. It supports 2G Band 850/900/1800/1900 and 3G band WCDMA 900/2100 MHz. Moreover, you can enjoy faster internet speeds with Wi-Fi v802.11 b/g/n and faster file transfers with the latest Bluetooth version 4.0. It also has Gravity Sensor, FM, EBook, Email, Tethering and portable hotspots and a highly accurate GPS.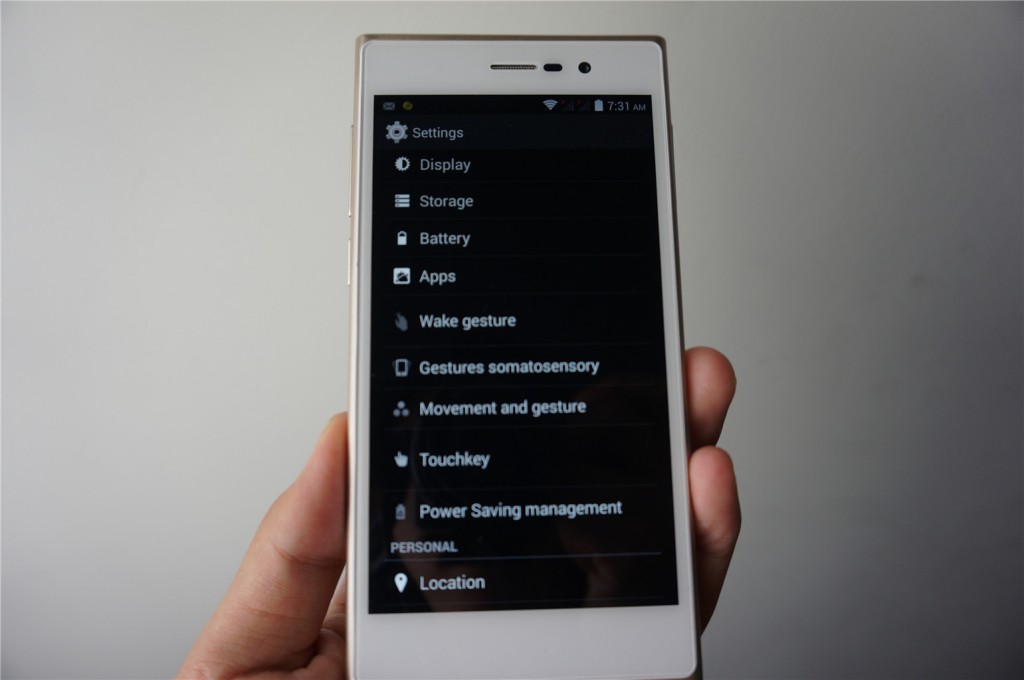 Doogee DG900 also has intelligent gesture support which automatically receives the phone call as you put the phablet next to your ear. There are many more gesture features like draw C on phone's screen, it will not only unlock the phablet, but also opens up the camera for you. Similarly double tap on the home button to wake up the phone and review the lock screen updates.Another astonishing feature of this Smartphone is that also supports about 43 languages from around the globe. It recognises input in Handwrite, Swype and QWERTY forms. It has a decent battery life which is powered by a non removable 2500mAh battery and has a 3.5mm headphone jack on the top of the body.
Battery life Battery life was a common problems among all the slim phones. The 2500mAh battery barely managed 7 hours on Doogee DG900 before shutting down during our tests. Hope the battery will last one day with moderate usage. This is at least 90 minutes short of what most phones usually last in our tests. But the good thing is it can achieve full charge in 2 hours.
Doogee DG900 Review: Verdict and price Doogee DG900 is good looking, well made, and is suitably different to most other Android devices. With the elegant design it gets a good scores for its aesthetic appeal. For the price, it also delivers good results in terms of its hardware i.e the camera, speed and overall build quality. Doogee DG900 is sold in various countries around the world, you can get it at giztop for $199.