NVIDIA Tegra X1 breaks the 70,000 points barrier on AnTuTu benchmark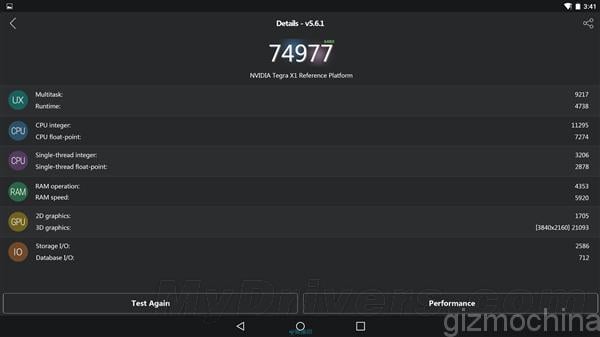 Last year's NVIDIA Tegra K1 turned out to be a very powerful processor. In fact, in the single core test on GeekBench, the SoC managed a score of over 1900 points, making it the leader.
This year, at CES 2015, the company announced its latest processor, the NVIDIA Tegra X1 which is supposed to be a super powerful eight core beast all set to put SoC's like Snapdragon 810 to shame. The processor is said to feature eight 64-bit cores along with 256 core GPU, increasing the performance to twice that of last year's K1.
Now, we have spotted a device powered with this super powerful processor and as expected, the benchmark results are off the charts! According to AnTuTu's benchmark entry of a device with Tegra X1, it managed to score over 70,000 points. To be specific, it scored 74,977 points! This makes it the first device to actually break the 70,000 points barrier, showing off the actual power of this beast.
The CPU performance score is over 10,000 points and the 3D performance score is over 21,000 points even with 4K resolution support. That's pretty impressive for a mobile device!
Unfortunately, we still don't know when we will finally see the Tegra X1 in action. Not many devices used the K1 processor but hopefully, if the SoC's performance is as good as this entry, then we are all the more excited to see a device with Tegra X1 in action.
So what do you think about this benchmark result? Impressed?