Report: Cortex A72 powered MT679X will debut in Q4 2015
Mediatek has been stepping up its game this year with its new MT67XX lineup based on the 64-bit architecture. Back when ARM announced its new Cortex-A72 core, it said that Mediatek will be one of the first chipmakers to utilize this new Cortex core. Today, we have some more details about the upcoming Mediatek chipset based on the Cortex-A72 core.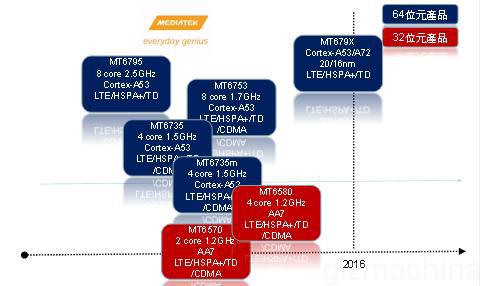 According to a leaked information, the new Mediatek MT679X chip will use the Cortex-A72 core along with the power efficient Cortex-A53. The chip will be built using the big.LITTLE architecture which saves battery life without sacrificing on power.
It is said that the new chip will leave the 28nm manufacturing process in favor of a better and power efficient process like the 20nm process or even the 16nm FinFet. However, the source doesn't reveal which one of the two will be used by this new Mediatek chip. If Cortex A72 is built on the 16nm process, then it will be 3.5X faster than Cortex A15 on a 28nm process and 1.9x faster than Cortex A57 using 20nm process.
It is also said that Mediatek will partner up with AMD for its mobile GPU. Up till now, the chip maker used ARM's Mali GPUs inside its processors.
It looks like the new MT679X processor will turn to be quite powerful yet efficient. The chip is expected to debut by the end of the year, i.e. Q4 2015. So, we can expect smartphones to feature this chip by next year.