Xiaomi Mi4i vs Asus Zenfone 2 – Let the showdown begin!
Finally, we will get to see a showdown between two powerful, but affordable, Smartphones. The Chinese brand showed guts going up against ASUS, unveiling itself in one of the biggest Smartphone markets, India. Both bring to the table some powerful specs and full HD display. However, despite their obvious similarities, big differences can make one superior to the other.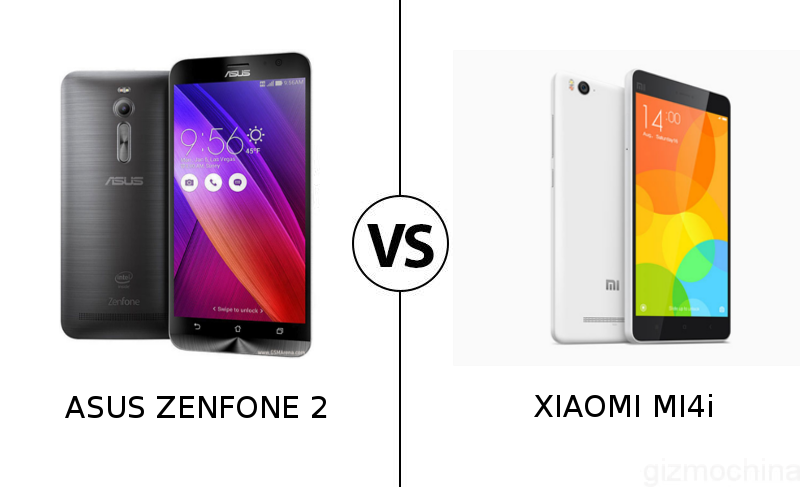 First of all, the Mi4i has beaten ASUS, hands down, being the cheapest full HD LTE enabled flagship. While being the lighter one of the two flagships, in terms of weight and price, the Mi4i offers no less than the Zenfone in terms of power and speed. Mi4i bears a Snapdragon 615 octa-core processor at heart, whereas ASUS shows hardcore loyalty to Intel Chipset. Moreover, Xiaomi's 3120 mAh battery is more powerful than ASUS's 3000mAh while the latter's processor is more battery consuming; it is clear who the winner is in this round (1). However, the Zenfone has a better front camera and more storage, with 16GB (non-expandable) on Mi4i against the 16GB expandable memory on the Zenfone.
Currently, the price stands at $200 for the Mi4i which is the same price as the ASUS Zenfone 2 (2GB model). However, depending on the RAM and other specs, prices can vary. With hardcore specs like that, it's quite a sweet deal don't you think?
You can compare every specs of the devices in details from the table below.
[NOTE: In the table, GREEN one indicate the better specs]
| | | |
| --- | --- | --- |
| SPECS | XIAOMI MI4i | ASUS ZENFONE 2ZE550ML |
| Dimensions | 138.1 x 69.6 x 7.8 mm | 152.5 x 77.2 x 10.9 mm |
| Weight | 130 grams | 170 grams |
| Display | 5-inch 1080p  (441ppi) | 5.5-inch 720p (267ppi) |
| Processor | 1.7GHz Qualcomm Snapdragon 615 octa-core chip | 1.8GHz Intel Atom Z3560 quad-core chip |
| RAM | 2GB | 2GB |
| Storage | 16 (non-expandable) | 16 (expandable) |
| Camera | 13MP primary5MP secondary | 13MP primary5MP secondary |
| Battery | 3,120mAh | 3,000mAh |
| Connectivity | LTE, Wi-Fi, Bluetooth, Dual-SIM Dual Standby (Both SIMs support 4G) | LTE, Wi-Fi, Bluetooth, Dual-SIM Dual Active (only one SIM supports 4G) |
| OS | Android Lollipop (MIUI 6) | Android Lollipop (ASUS ZenUI) |
| Price | Rs 12,999 ($204) | Rs 12,999 ($204) |