Meizu officially entering the Indian market on May 18
We have been hearing rumors about an event from Meizu later this month and looks like it was for the official debut of the company in India. Earlier today, Meizu announced via its official Facebook and Twitter accounts that it will be entering the Indian market this month.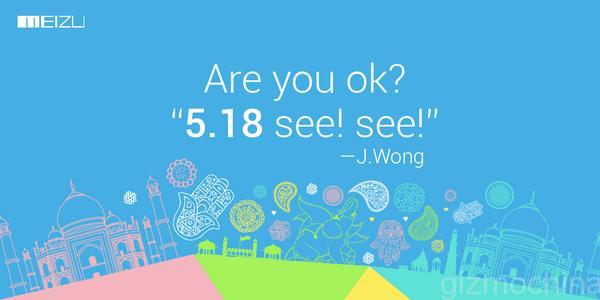 The company has held a new press conference in the country, where it will most likely unveil a number of its existing device portfolio. The company is yet to reveal which phones will make it to India first, but our best guess is the two popular devices from the Blue Charm series, namely the Meizu M1 Note and the Meizu M1 Mini will debut first in the market.
Interestingly, the event poster unveiled via a tweet uses the same quote from Lei Jun's Speech at the Xiaomi Mi4i unveiling "Are You Ok?".
India has one of the fastest growing smartphone market and its no wonder than many Chinese companies like Xiaomi, Gionee and even Nubia are trying to get hold of a share of the market. Meizu's entry will further intensify the competition in the country, especially, in the mid-range and low-end segments.
Well, the announcement is just a few days away, so expect more details soon.