UPDATE GETONE APP now safe to use
UPDATE 06/09/2015- Getone have stood by their word and have fixed the backdoor issue the new version is 1.0.13 has passed the virustotal test, the new version is 1.0.13
And let me know how you get on and what bargains you purchase.
UPDATE 04/09/2015- I have just spoken to one of the other Gizmochina editors, he has spoken with the getone team, as he knows them and has vouched for their credibility.
They are aware of the issue with the app and are currently working to sort out the issue, I will update the article as soon as it is sorted, I really hope that they can get it sorted quickly and that no one is affected by the backdoors in the original app.
If they do get it sorted it would be amazing to get some bargains at just $9.99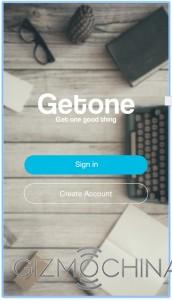 There is a new app doing the rounds that is said to be made by a Shenzhen based Chinese start-up, that has teamed up with 3000 China based manufacturers.
The getone app is supposed to give you access to a store that sells around 200,000 products, the big USP for the site is that everything they sell, no matter how high the normal price should be, must be sold at $9.99
Sounds amazing? want to get the getone app download links? well its worth holding out for a while as the apps are being reported as backdoor trojans!
The first comment in the Google  playstore is this 'Kaspersky reports backdoor! Kaspersky Internet security reports threat detected: HEUR: Backdoor.AndroidOS.Seldor.a'
If you head over to virustotal.com and check out the getone app it makes for pretty grim reading! and truly makes the old saying ring true…
If something seems to good to be true, it probably is.
I will keep you updated if things change but for now, do not use the App it could end up costing a lot more then $9.99
Please feel free to leave comments below
Regards Shanos
Originally posted at gadgetz.tv