Amazing Divoom Aurabox Bluetooth Wireless Speaker Review
When it comes to the Bluetooth speakers, the market is really crowded with a lot of them ranging from $10 to hundreds of dollars depending on what you really need. However, there is one common trend – all of them are becoming similar in terms of design, size and shape. The Divoom Aurabox is something that you may have not seen before.
We wanted to say thank you to Divoom for sending the Aurabox for a review. We suggest you visiting the product page for more detailed info.
Divoom Aurabox Bluetooth Speaker Review: VIDEO
Divoom Aurabox Bluetooth Speaker Review: UNBOXING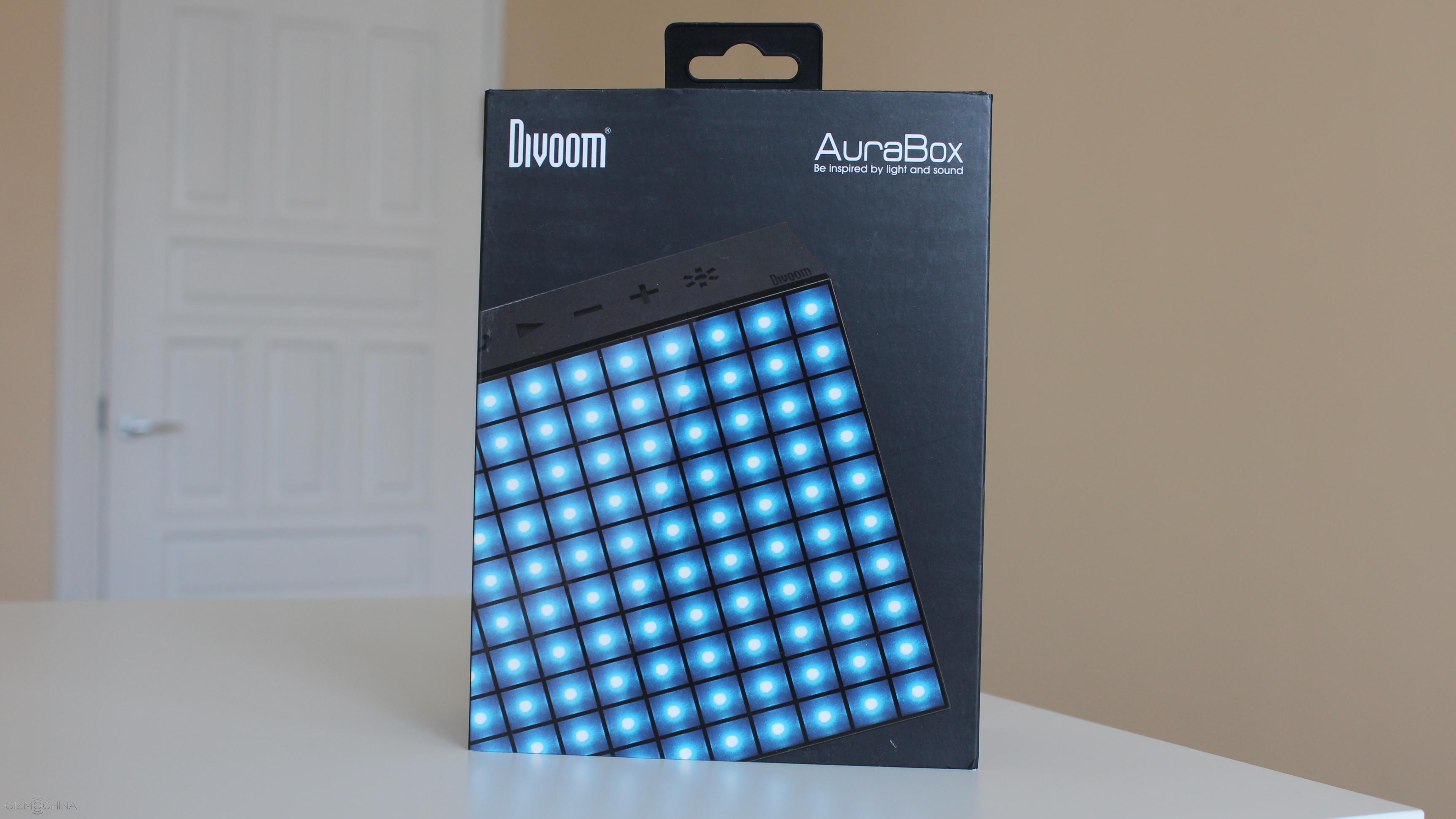 The speaker comes in a really premium box, which matches the $60 retail price of this speaker.
All you are getting in the box is a speaker itself, microUSB charging cable, AUX cable and some documentation.
Divoom Aurabox Bluetooth Speaker Review: DESIGN and FEATURES

What makes the Divoom Aurabox stand out from other speakers is that it has 100 highly customisable LED lights and I have to say they really look cool.
The speaker is not the smallest we've seen but it is very compact and lightweight. It has a good built quality but the choice of rubber all around the speaker makes it a fingerprint and dust magnet, and it is not that easy to clean it.

The Divoom Aurabox comes only with one speaker but it is large at the size 3" and it has 5W of power. Due to the unique design of this gadget, it is placed on the back.
On the bottom right corner we have a microUSB charging port along with the LED and the AUX input in case you want to connect a non-Bluetooth device.

The top side is full of controls. Here you can find a microphone for hands-free calling and I can say that the call quality is pretty good. Also, you can find a power switch, play/pause button, volume up/down, which also double as skip tracks buttons. Lastly, there is a light a mode button, which allows you to choose between the clock, the embedded real-time thermometer, different light modes or simply shuts down the LED lights.
Divoom Aurabox Bluetooth Speaker Review: THE APP
The Divoom Aurabox app can be downloaded from the Google Play Store (Android) or the App Store (iOS).
Please see the video review, where we walk through all the features of the app.
The fun doesn't stop here as the Aurabox has an app, which adds a lot of functionality and customisation options. You can select what to display on the speaker's display, which includes a lot of preset light modes and animations or you can select that LED's will blink according to the music you play.
Speaking of which, the app has a very simple music player but you can also use your phone's default player.
Also, there is a sleep timer as well as alarm and it allows you to choose between different music and light combos.
Once you go to the gallery, you can choose from tons of different images and a lot of cool looking animations.
If you still feel that you can't find the one you like you can design your own image and even animation, which is really amazing! The interface is super easy and fun to use. You are given 8 different patterns and you can choose a different colour for each of them. This is something that is fun to play but as you can see I wasn't too creative here.
In addition, you can receive a lot of different notifications like Facebook, messages or incoming calls. That's pretty neat.
All in all, the creativity is endless here.
Divoom Aurabox Bluetooth Speaker Review: SOUND QUALITY

The Aurabox is really loud for the size of the speaker and it will easily fill even the largest rooms with sound. As far as the sound quality goes, it is quite impressive as it has quite a lot of depth, a decent amount of mids and a good amount of bass. However, since the speaker is located at the back, the highs are not pronounced enough and could be a bit sharper. Also, either the subwoofer or the speaker grill starts making a few cracking noises at the highest volume setting once you play songs with a good amount of bass. A good thing is that listening to music at around 80-90% of volume setting easily fixes this issue.
Divoom Aurabox Bluetooth Speaker Review: CONCLUSIONS

So here it is, the Aurabox by Divoom. These 100 LED lights with tons of different customisation options make this speaker stand out from the crowded Bluetooth speaker market.
Also, the features like the clock, thermometer, alarm clock and sleep timer add the functionality we don't see on all the Bluetooth speakers, especially in this price range.
The app is responsive and easy to use and a great thing is that you can choose between different modes straight from the speaker itself.

The sound quality is definitely good for a price except the fact that some cracking noises may kick in once you play the music at the loudest volume setting. Other than that you may actually be surprised by the depth of sound this tiny speaker can produce.
The battery life could be better though. Well, I could get up to 5.5 hours of music playback but it was with the LED lights off. Once you keep them turned on, you may get just around 3 hours. Well, it is not really impressive but this is a trade-off needed to be made to power up a a huge speaker and 100 of LED lights.

All in all, the Divoom Aurabox is a great buy despite a few shortcomings. If you are looking for a Bluetooth speaker that does a lot more and it is really fun to use, this may be for you and I believe the speaker is worth $60 price tag.