Xiaomi CEO: Redmi Note 2 sales to exceed 10 million
Xiaomi's Redmi Note 2 is one of the best value for money devices in the market right now. The company managed to pack in the powerful Helio X10 MT6795 chipset inside this sub-1000 Yuan device, making it a popular choice among customers right from the start.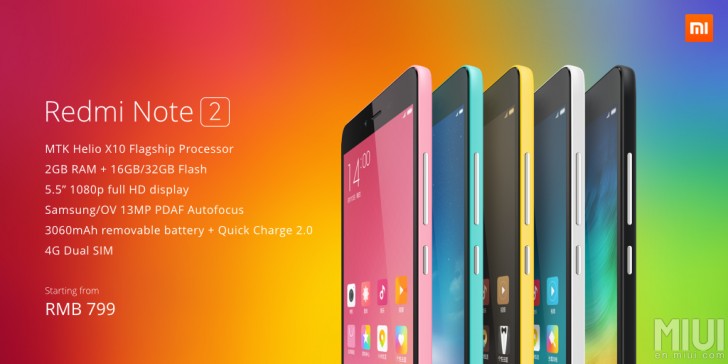 The company announced the Redmi Note 2 model on August 13, and made it available for sale on August 16. On the first day of sale, within 12 hours the company managed to sell about 800,000 units of Redmi Note 2, making a record. Later, in the next update, the company revealed that it sold 1.5 million units in just 15 days. And by the end of 1 month, on September 15, Xiaomi had sold around 2.15 million units.
The company has heavily invested in upgrading its production capacity to satisfy the demands of the customers. Now, Lei Jun claims that with automated production, low price and good quality, the Redmi Note 2 sales may easily exceed 10 million units. While he doesn't give a time frame for reaching this milestone, from the current pace of sales, we can expect it to happen sometime early 2016.
Its no surprise that Redmi Note 2 is so poplar among customers. Along with the flagship Helio X10 chip, the phone features 2GB of RAM with 16GB/ 32GB of storage options, 13MP camera at the back and a 5MP of shooter up front. Theres a 5.5-inch FHD display with a large 3060mAh battery on board. Finally, the phone comes with latest MIUI 7 OS on board. All this for a price tag of just 799 Yuan which comes to around $126.