Balanced Sounding Bluetooth Headphone makes you rethink – Editor's Choice
I really enjoy the freedom that Bluetooth allows with headphones. And I love Bluetooth.
Getting up in the morning, and listening to TV around the house, playing music from iPods. It can also change your listening habits since you don't need to sit in your allocated area with the amp attached by a wire to your head all the time. It has the effect of making me a lot more 'experimental' with what I listen to since it's so accessible without the constraints of wired.
So much fun to enjoy the Bluetooth, I am going to illustrate what's in my mind and share with you all of them.
With wireless systems, sound will not be the same as wired headphones, but sometimes, you just want something convenient to listen to. A bonus is if the headphone sounds good as far as Bluetooth allows.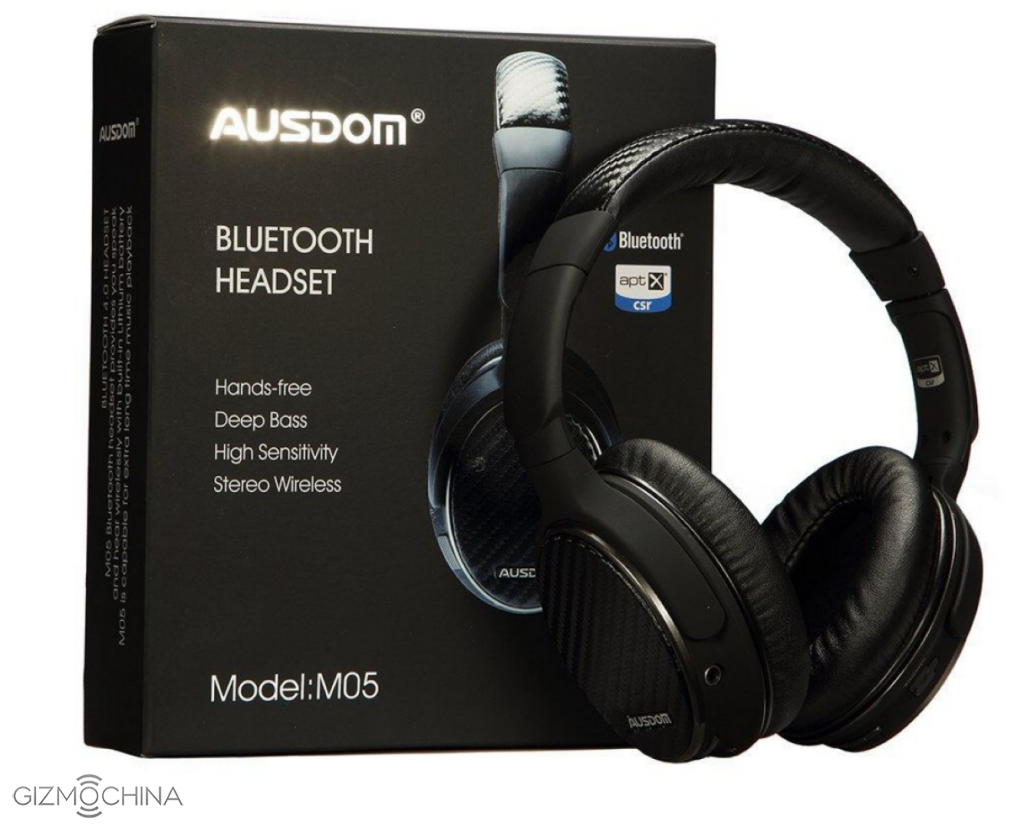 The Ausdom M05 arrived in a very unassuming box, Smaller than I thought since I've seen the pictures.  It uses Bluetooth v4.0 which saves on power, the relatively high technology for Bluetooth Headphone.
It has four Bluetooth profiles as well as apt-x. Yes, it's apt-x. It's a step in the right direction but transmitting devices have to catch up. It basically sends data in a less compressed format which has two benefits. First of all, it minimizes latency, which is very important for TVs since there is less converting going on. Secondly, it can improve the quality of sound because again, there's less converting going on both of these things depend on one thing. The device sending the signal MUST be apt-x as well. Many don't realize this and think that apt-x doesn't do anything as a result. Well, it doesn't if it's not switched on at both ends!!
Here we see the inside of the BOX. Amazing!!!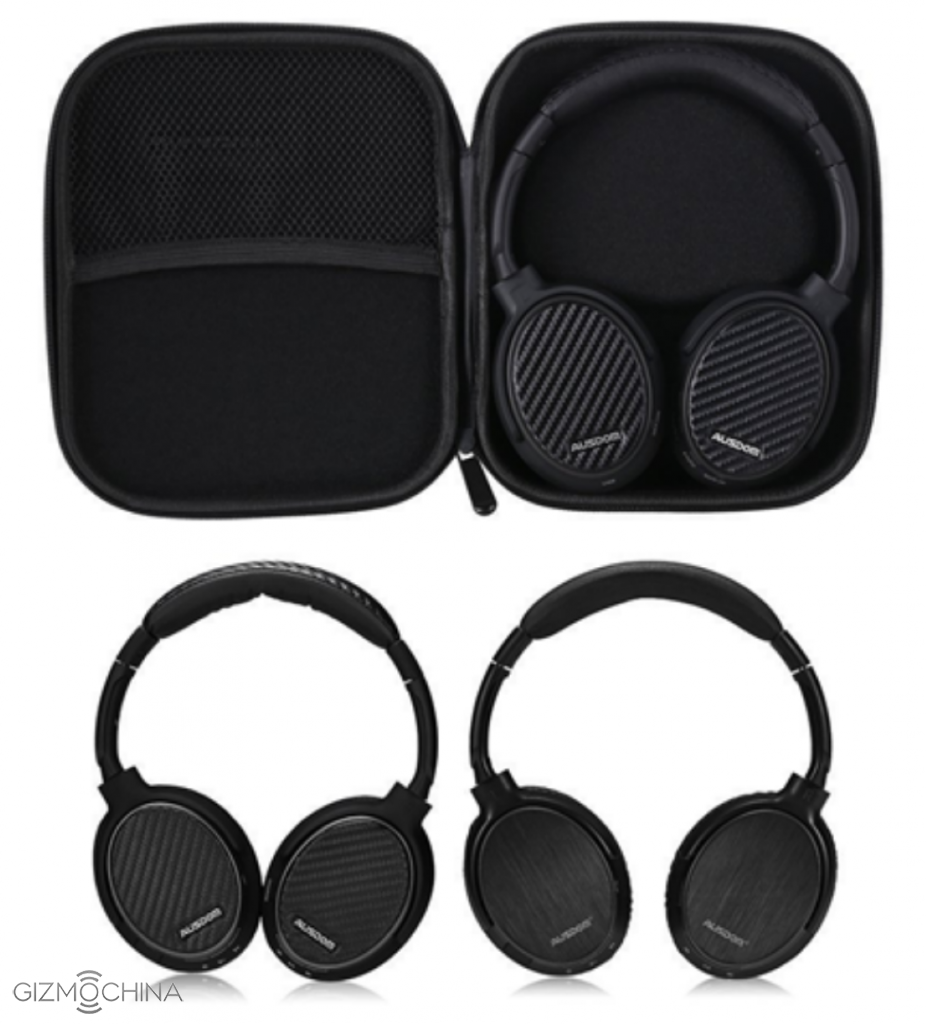 Wireless range is the usual 10 meters direct line of site and the M05 basically lines up with other Bluetooth sets in this respect. But I am quite surprised at the real distance which is nearly 20 meters, when I am walking around the garden. Standby time is a staggering 250 hours with 20 hours music playback time. That's the benefit of Bluetooth 4.0.
It connects via a supplied wire connection and the good thing is that it doesn't need to be switched on this way. It works passively. The connection is at the back of the left earcup.
Connection is dead easy and logical. Next time you switch on, it connects with the last connected device without pairing. It even talks to you in the earcup!!
It's a good looker. Quite unassuming in appearance. The surfaces are rubberized and it has good Pleather headband padding and earpads. It has a 'faux' graphite type of look and the backs of the cups are slightly padded. Actually, this protects it perhaps from weather and also knocks.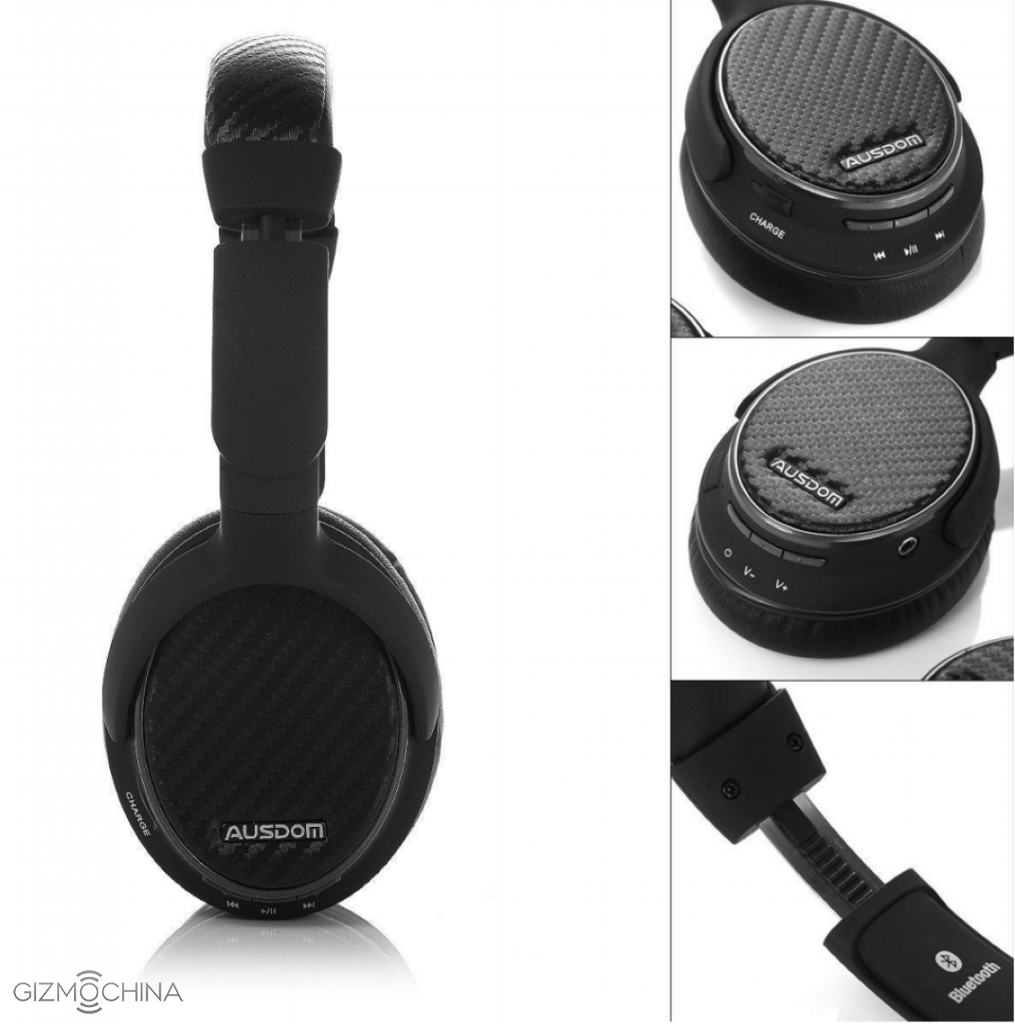 The sound of this headphone is very good. With Bluetooth, I've come to expect lower standards than this and I was quite surprised at how balanced the M05 sounds. It is mellow, with no shriek in the treble, but is also actually quite extended up there. So you get good cymbal splashes and crisp consonants on speech. There is a slight roll off up there but really not severe.
Mids are really good. They sound pretty even to me and I'd say some of the best sounding mids I've heard on a Bluetooth headphone. This makes it sound more 'natural' than most. This is where most music 'sits' and gives the headphone presence. It is a warmish comfortable sound and my guess is that the mids are excellent on the M05, producing an effortless sound.
Bass is mellow and hits nicely. It's mostly upper bass and I feel that lower bass rolls away as many Bluetooth headphones do. There is no big mid bass hump in my opinion. So from upper bass to lower treble, this headphone seems very balanced to me.
ABOUT AUSDOM
Ausdom is owned by Shenzhen Ausdom Cloud Technology (a Chinese based company specialising in IP Surveillance equipment and systems). Their main product lines at this time are in two main lines – IP cameras (both fixed and automobile based), and also audio solutions (predominantly Bluetooth / wireless headphones, but also Bluetooth speakers).
With more than 10 years in the Wireless IP business, Ausdom have a lot of experience with the management and development of high quality video products, and fortunately for audio enthusiasts that also extends to wireless technology. Ausdom have 6 R&D teams at their disposal, and this includes more than 60 professional innovative designers and engineers – and it really does shine through in the M05.
From the Ausdom website:
For each product, our designers and engineers will carefully study the user's habits, and use their creativity and experience to provide the consumers with convenient, efficient and valuable products. Every AUSDOM product is made with care, every detail counts to impress our customers. Giving our customers the perfect experience has always been AUSDOM's goal. The recognition of our customers and their suggestions are our driving force.
AUSDOM is a team dedicated to design. They are not afraid to follow their dream.
And I really like their by-line / company slogan – because it does seem to capture their ethos (from the limited time I've had with Ausdom so far):
Enjoy Smart Life
I am highly recommending Ausdom M05 for who love Music or Headphone enthusiast. With Less than $50, it's the best headphone we can choose. Also thanks for Ian and Paul who showed me Ausdom M05, and finally found it's such a great piece.
Let's Enjoy Smart Life and hope Ausdom can offer us more great Headphones.
Website: www.ausdom.com
Amazon link: amzn.to/1JZ2ofj