Xiaomi Mi 5 Case Confirms A Compact Size, Plus A Bunch Of Other Details
We are less than 10 days away from meeting the Xiaomi Mi 5 flagship, and details about the phone just keep coming. Yesterday, the company revealed a Xiaomi Mi 5 case on weibo, which gives us a fair idea about the dimensions of the upcoming smartphone.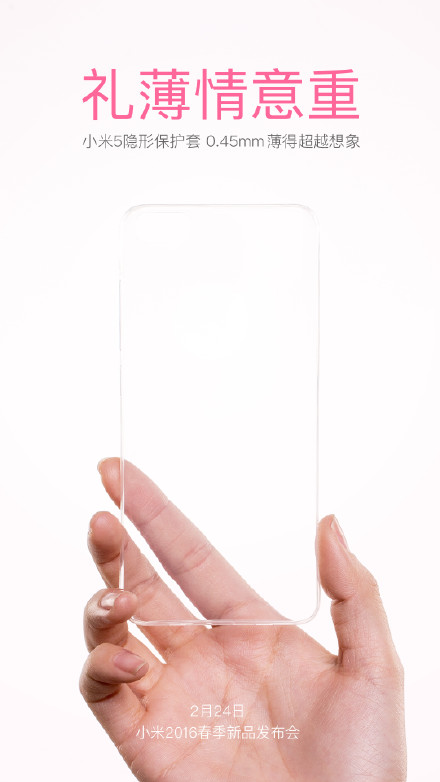 From the image, we can see that the Mi 5 will be compact enough to be held in one hand. So, looks like the earlier rumors were right, as the phone will most likely come with a compact 5.2-inch display panel. We had seen a benchmark listing which revealed a 5.7-inch display on the Mi 5. Benchmark apps like GFXBench often detect the wrong screen size, so we were skeptical about the same. And now we can be sure that the phone will be compact.
Apart from the rough dimensions, Xiaomi also revealed that the silicon case will be a staggering 0.45mm thin. Now that's really beyond our imagination, since at this thickness, the case would perfectly stick to the smartphone keeping it super thin.
However, these aren't the only features that we can take from the case. After a few tweaks, we can see that the case reveals a lot more information than before. The tweaked image of the Xiaomi Mi 5 case reveals the camera slot, ports at the bottom as well as the button placements.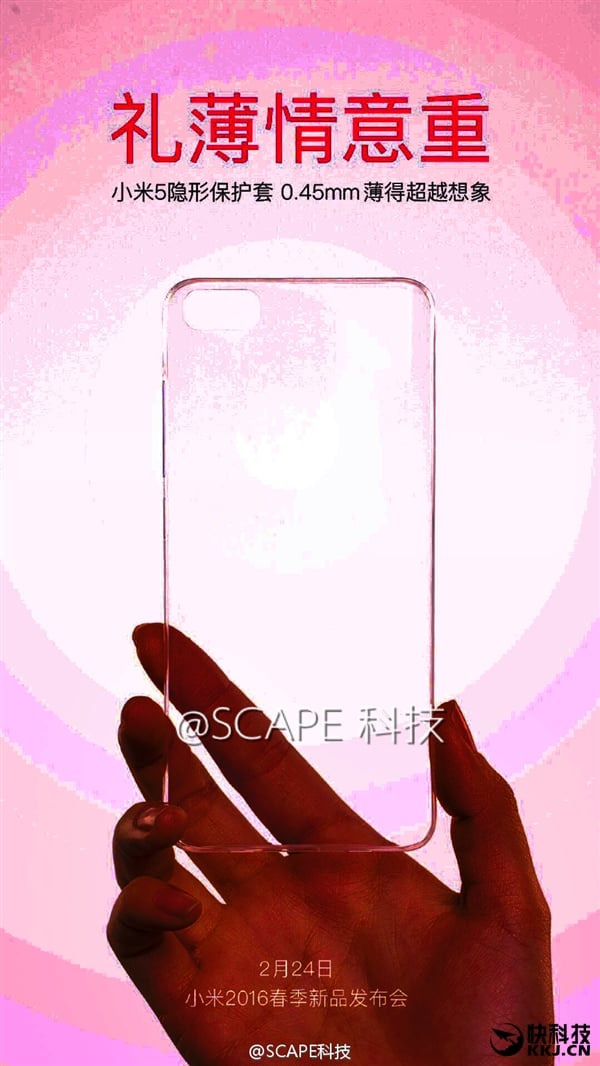 From the image, we can see that the Xiaomi Mi 5 will have a rear camera sensor as well as dual LED flash on the top left corner of the back shell. The power button and the volume buttons will be located on the right side of the phone. At the bottom, you will find the USB Type-C port as well as dual speakers. The screen size should be around 5.2-inches and the back is expected to be slightly curved as well.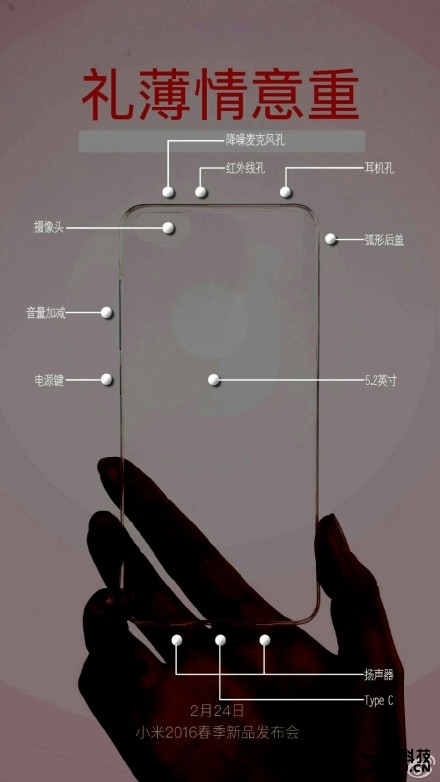 Well, that's all the information that we got from the teaser image. The biggest feature confirmed today was the compact screen size, which was something that we were confused for quite a while. Now that we know almost all of the specs of the device, here's a Xiaomi Mi 5 specs summary (some are yet to be confirmed):
5.2-inch 1920 x 1080p display
Qualcomm Snapdragon 820 processor
3GB / 4GB RAM
32GB / 64GB Internal Storage
16MP Rear Camera Sensor + dual LED Flash + OIS + Laser Focus
8MP Front facing sensor
3600mAh battery
dual SIM dual Standby
4G LTE, NFC, Wi-Fi ac, Bluetooth 4.1
Android 6.0 Marshmallow OS + MIUI
White, Black, Gold & Pink Color Options
$380 Base Price tag