Xiaomi Mi 5 vs Le Max Pro: Quick Specs Comparison
Now that the Xiaomi Mi 5 is officially announced, its time to look at how it compares with the LeEco Le Max Pro which was announced back in January. The new Xiaomi flagship comes with plenty of innovative features meant to disrupt the industry. However, what really is the highlight of the phone is the price tag. Xiaomi has always been aggressive with its pricing and slapping a price tag of just 1999 Yuan for the device is just amazing.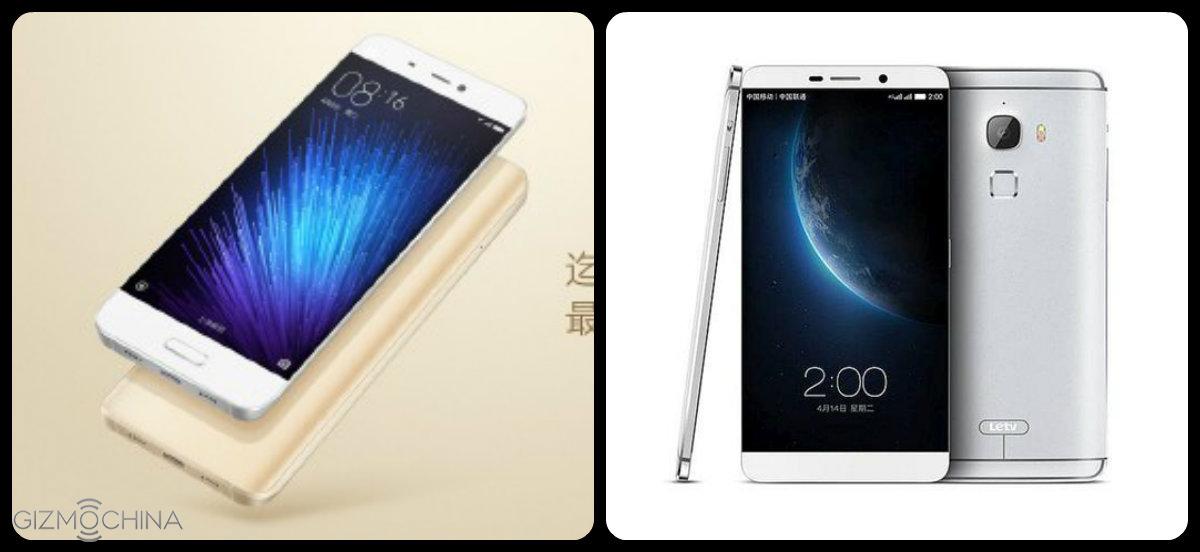 But given that the Le Max Pro comes with 4GB of RAM, we will compare the top end version of the Xiaomi Mi 5 also coming with 4GB of RAM. So, without wasting any more time, let's look at a quick Xiaomi Mi 5 vs Le Max Pro comparison.
DISPLAY:
Both the companies are targeting different consumers with its flagships. The Le Max Pro comes with a massive 6-inch display with 2K resolution while the Xiaomi Mi 5 comes with a much more compact 5.15-inch LCD display with FHD 1920 x 1080p resolution. As you can see, if you are looking for a compact flagship, Mi 5 is your best bet. But if you want something big that can fulfill all your entertainment needs, the Le Max Pro is the one for you, with a large 6.3-inch panel.
PROCESSOR & MEMORY:
Not much is different in this category, both featuring Snapdragon 820 chips. The SD820 inside Mi 5 is clocked at 2.15GHz, while the one inside Le Max Pro is clocked at a slightly higher 2.2GHz. As for the GPU, both have Adreno 530. Again, both feature 4GB of LPDDR4 RAM and UFS 2.0 storage. While the LeEco flagship comes with 64GB of storage, the high-end variant of the Mi 5 comes with a whopping 128GB storage.
Xiaomi Mi 5 vs Le Max Pro – CAMERAS:
We can't usually judge the camera performance just on the basis of specs, so we leave that for later during our review. But for specs, the Le Max Pro comes with 21MP sensor with f/2.0 aperture, OIS, PDAF and dual LED flash. On the other hand, the Xiaomi Mi 5 comes with a 16MP sensor with DTI technology (better light utilization), four axis OIS, PDAF and dual LED flash.
As for the front camera, you get a large 4MP with 2-micron pixels on the Mi 5. Similarly, the Le Max Pro also comes with a 4MP front camera.
BATTERY:
The Battery is a bit larger on the Le Max Pro, with a capacity of 3400mAh and it supports QC 3.0 as well. On the other hand, the Xiaomi Mi 5 comes with a slightly smaller 3000mAh capacity battery.
To be honest, the Mi 5 should have a better battery owing to the FHD resolution vs 2K on Max Pro and a smaller and compact display measuring just 5.15-inches. But we will have to wait and see, how much screen on time both the devices can provide.
CONNECTIVITY & MISC:
So, for connectivity, both feature dual SIM Dual standby, 4G LTE, VoLTE, USB Type-C port. We are not quite sure whether Le Max Pro has NFC (probably not), but the Xiaomi Mi 5 has this feature.
Both have fingerprint sensors on board. But they use different sensors. While the Le Max Pro comes with Qualcomm's new Ultrasonic 360 degrees sensor, we are not quite sure what sensor is inside the Mi 5.
PRICING & AVAILABILITY:
Le Max Pro recently went on sale at 1999 Yuan ($305) but only 1000 engineering units were made available for sale. The open sale date or pricing is yet to be announced, but it's going to be much costlier than this figure.
On the other hand, the Xiaomi Mi 5 is confirmed to go on sale from March 1, i.e next week at a starting price tag of 1999 Yuan ($305). If you are looking to purchase the prestige edition (most powerful version), i.e. the one compared in this article, then it will cost you 2699 Yuan ($413).
COMPARISON: Xiaomi Mi 5 vs Le Max Pro
No.
SPECS
Le Max Pro
Xiaomi Mi 5
1
DISPLAY
6.33-inch LCD
2560 x 1440p (464 ppi)
5.15-inch LCD
1920 x 1080p
2
CPU
Qualcomm Snapdragon 820
@2.2GHz
Qualcomm Snapdragon 820
@ 2.15GHz
3
GPU
Adreno 530
Adreno 530
4
RAM
4GB LPDDR4
4GB LPDDR4
5
STORAGE
64GB UFS 2.0
NO MicroSD slot
128GB UFS 2.0
6
CAMERAS
21MP f/2.0 6P Lens
OIS
PDAF
dual LED color temp flash5MP Secondary
81 degrees wide angle
16MP 6P Lens
4 Axis OIS
PDAF
dual LED color temp flash4MP Secondary
2-micron pixel
7
BATTERY
3400mAh (non-removable)
3000mAh
8
OS
Android M + EUI
Android 6.0 + MIUI 7
10
FEATURES
4G LTE, VoLTE
USB Type-C
QC 3.0
Hi-Fi, Dolby Atmos
Ultrasonic Fingerprint ID
4G LTE, VoLTE
USB Type-C
QC 3.0
Fingerprint ID
11
PRICE
TBA
$413 (128GB)
So, that was it. Xiaomi Mi 5 vs Le Max Pro. As you can see, this is not an extensive comparison, rather it's just a quick specs comparison. It helps you to figure out what each model offers to the consumers.
Which one would you pick? Although I know what's the answer going to be for most of our readers.