March Android distribution numbers: Lollipop tops the chart, Marshmallow reaches 2% mark
by Shine Wong Mar 8, 2016 11:40 pm0
Google updated their Android Distribution Data for the month of March. The latest Android v6.0(Marshmallow) has some how managed to crawl past 2%, although it is growing, but not as expected.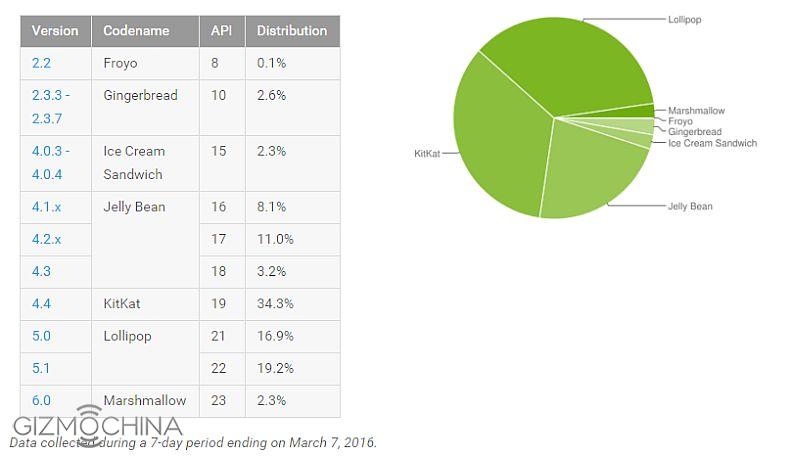 According to the data Android v6.0(Marshmallow) is now running on 2.3% active Android devices. Interestingly, the level of distribution has doubled up from the February's figure of 1.2%.
Finally, Android Lollipop v5.X's market has managed to top the chart after 16 months of its initial release. Android Lollipop holds total share of  around 36.1%(Android 5.0 and 5.1 Lollipop running on 16.9% and 19.2% respectively). While, the devices running Android KitKat v4.4 have dropped down to 34.3% this month from 35.5% last month.
The Android 4.1.x – 4.3 (Jelly Bean) has now combined share of 22.3% compared to 23.9% last month and Android ICS v4.0.x  has around 2.3% with 0.2% decrease from last month's data.
Honeycomb has no place in the list, Android Gingerbread v2.3.3-2.3.3 and Android Froyo v2.2 has distribution shares around 2.6% and 0.1% respectively.
It is worth mentioning that Android 6.0 version market share is surely going to level up as numerous OEM's releasing Android 6.0 updates. But, Google will be demonstrating Android 7.0 at Google I/O developer conference, which is expected to happen soon. With this, some manufacturers may not follow v6.0, which is not a good practice.