Mini Wear from Zeblaze its small but mighty
Zeblaze Mini Wear its small but mighty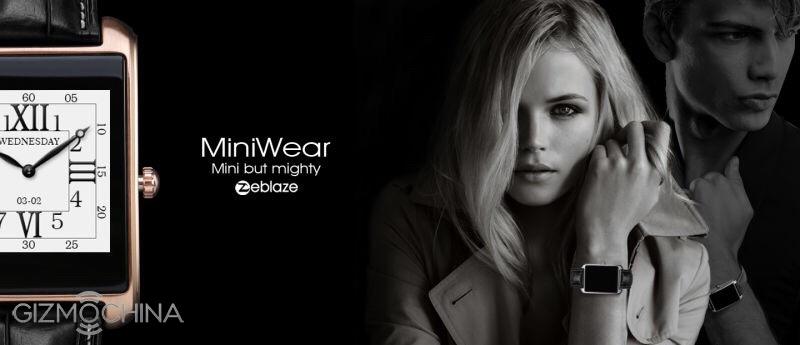 Zeblaze, a China based smartwatch manufacturer has recently had a lot of success with their range of premium smartwatches at a very affordable prices.
The positive feedback from their previous smartwatches and the praise for their products has pushed Zeblaze to launch a promising new product named 'Mini Wear'.
So what is promising about the Mini Wear?
The product leak does not reveal a whole lot of information, the previous Mini Wear had a 1.21-Inch IPS display with a resolution of 240 x 240 px. Hopefully the new Mini Wear will feature either a higher resolution screen at the same size, or perhaps a display altogether.
The previous Mini Wear was powered by the 2014 MediaTek MTK2502C processor, which by todays standard is a fairly outdated, Zeblaze has announced on their website that all of their latest product lines will feature the newest processors available from MediaTek, so hopefully we can expect a significant upgrade in this area.
Another area that we can expect to see improvements in is the battery,  the previous version of the MiniWear had a 200 mAh Li-Po (Lithium Polymer) battery which gave a pretty decent runtime between charges.
Another area that I hope to see improved is the range of sensors and functions on the Mini Wear, it would be great to see what they can add to differentiate from other smart watches on the market.
It is highly likely that the MiniWear will come with an IP65 standard rating for water and dust proof certification, as this has become pretty much a standard on smartwatches from Zeblaze.
When it comes to connectivity lets hope that Zeblaze include Bluetooth 4.2 LE (Low Energy) as it will pretty much be the standard for 2016.
So the Zeblaze Mini Wear is coming very soon, lets hope it continues to carry forward the Zeblaze design standard and that it has a few surprises thrown in.
Please feel free to leave any questions or comments
Regards Shanos