ZTE Axon 7 vs Huawei P9: Two flagship Designs compared
Since we got our hands on the new ZTE Axon 7, we also got the opportunity to compare the design of the Axon 7 vs Huawei P9 to see if we could pick out which ones better looking.
As you can clearly see from the comparison down below, Axon 7 and Huawei P9 have two different design philosophies. The Axon 7 uses a curvier design, with round corners, and curved back which fits well in your hand. On the other hand, the Huawei P9 goes for a rectangular flat body with a simplistic design which is equally good looking. Both phones are built to attract the top-end market, featuring rich colors and an all metal body which feels premium.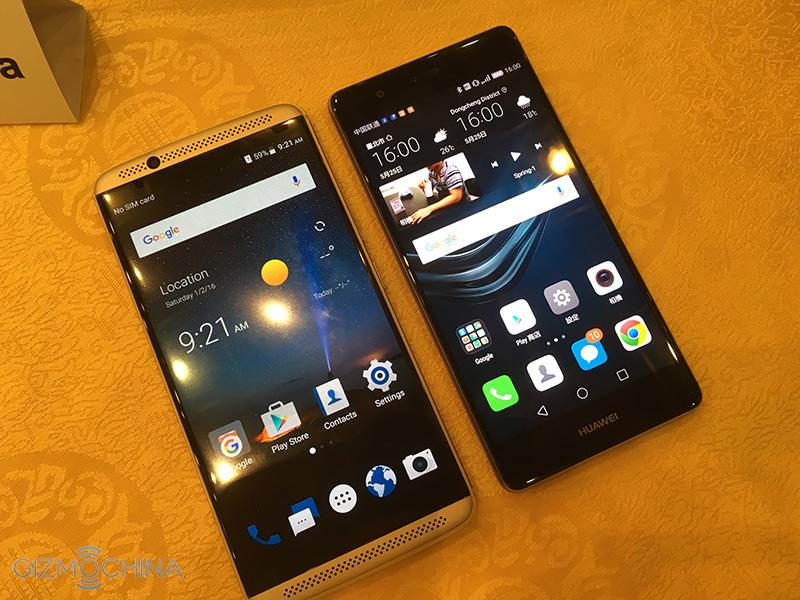 In real life as well as on paper, the Huawei P9 is much thinner, coming with a 7mm body. On the other hand, the Axon 7 comes with a 7.9mm body. But its curvier back does help in the grip to a certain extent. Also, like the CEO revealed a few days back, the Axon 7 comes with a new design without any screws.
Since the Huawei P9 features a smaller 5.2-inch 1080p display (as compared to 5.5-inch 2K screen on the Axon 7), it is a bit more compact. The exact dimensions of the P9 are as follows: 145 x 70.9 x 7 mm. On the other hand, Axon 7 measures: 151.7 x 75 x 7.9mm.
The dual speakers on the Axon 7 are located up front beside the display, while P9 features a single speaker at the bottom. Both have USB Type-C ports. Also the fingerprint sensors are located at the back on both the models as well. While ZTE Axon 7 has just a single 20MP camera module, the Huawei P9 comes with a dual 12MP camera setup certified by Leica which captures pretty good pictures.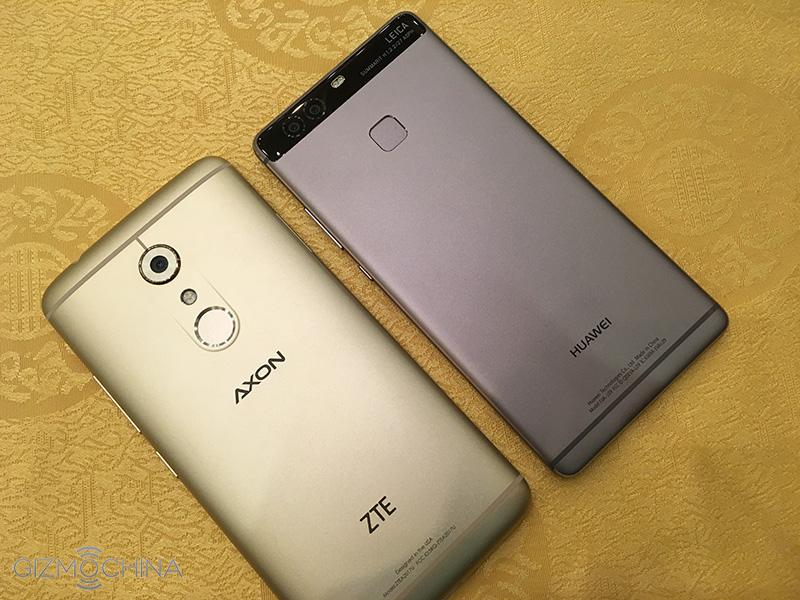 Another major difference betwen the devices is the target market. While ZTE is aiming the top-end crowd who would like an amazing VR experience with the Axon 7, Huawei is targeting business and premium users who want a better user experience. So, Huawei limited the resolution on the P9 to 1080p while, the Axon 7 has a 2K display.
In the camera department, the P9 should have an edge with dual cameras and Leica certification. But in the audio department, Axon 7 should come on top with dual Hi-Fi chips from AKM and Dolby Atmos surround sound.
You can check out the images below for the comparison between Axon 7 vs Huawei P9.