Nubia Z11 Max vs Xiaomi Mi Max: Which one would you choose?
Nubia just announced the new Nubia Z11 Max phablet earlier today in China, which puts it in direct competition with the recently released Xiaomi Mi Max phablet. Given that the top-end variant of the Xiaomi phablet is priced exactly the same as the Z11 Max, the comparison becomes a lot interesting. They both have very similar specs, including same processors, but differ in a few areas, which makes it difficult to choose which ones the best for you. So, today, we take a look at the Nubia Z11 Max vs the Xiaomi Mi Max. Let's see which one turns out to be our pick!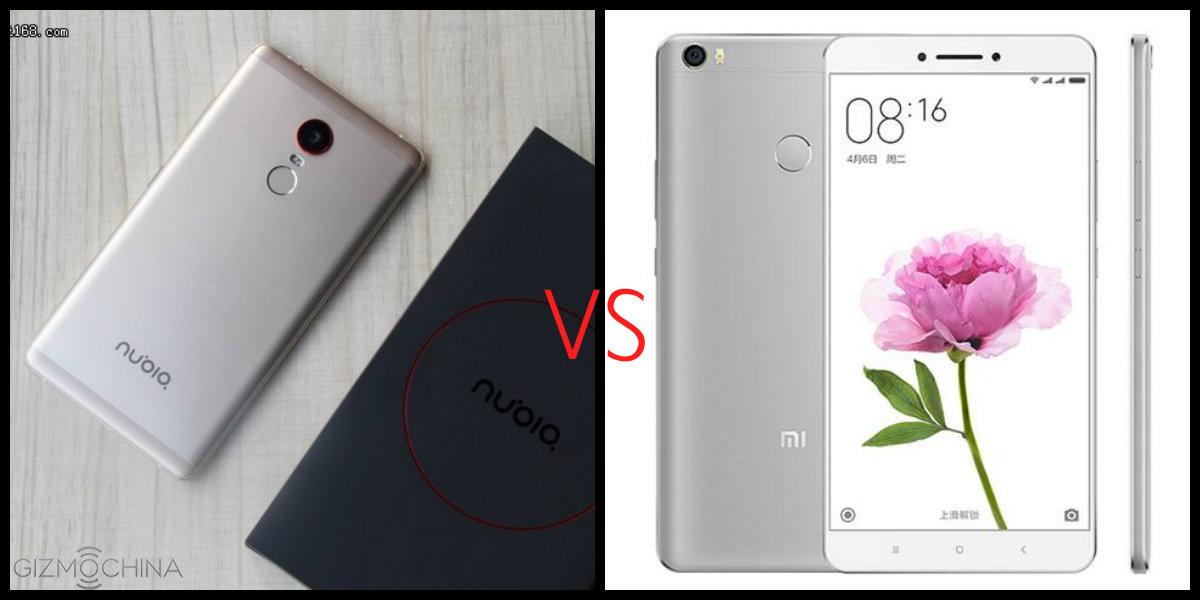 Nubia Z11 Max vs Xiaomi Mi Max: Design
As always, let's start with the design. Both the devices look beautiful with their sleek body and premium design. The Nubia Z11 Max comes with an aluminum body with 2.5D glass on both the front as well as the back. It's typical Nubia design philosophy. Coming to the Xiaomi Mi Max, the phone also comes with an aluminum body but it only features 2.5D glass up front and not on the back.
There are three colors available for both the models, with gold being the only one common. The Nubia Z11 Max comes with white and black options, while the Mi Max has light gray and silver color options.
Coming to the dimensions and weight, they are as follows:
Z11 Max: 159.15 x 82.25 x 7.40    185 grams
Mi Max: 173.1 x 88.3 x 7.5mm    203 grams
As you can see, thanks to its smaller screen size (6-inches) and impressive screen to body ratio, Z11 Max is much smaller than the Mi Max, with a height of 159.15mm as compared to 173.1mm on the Mi Max. It's a bit lighter as well.
Nubia Z11 Max vs Xiaomi Mi Max: Screen
Moving to the screen, the Z11 Max sports a 6-inch display with 1920 x 1080p resolution and Corning Gorilla Glass 3 protection. The Xiaomi Mi Max comes with a 6.44-inch display with the same 1080p resolution but with Corning Gorilla Glass 4. The pixel density comes to 368 ppi on the Z11 Max and 342 ppi on the Mi Max model. However, both use different display technologies. The Nubia model comes with a Super AMOLED display while the Mi Max has an IPS LCD display.
Nubia Z11 Max vs Xiaomi Mi Max: Specs
Now, coming to the internals, both the models (in this comparison we are considering the top-end Mi Max version) come with Snapdragon 652 octa-core chip clocked at 1.8GHz and 4GB of RAM. However, Z11 Max has just 64GB of internal storage, while Mi Max comes with 128GB on its top-end model. Both have eMMC storages. Also, both feature MicroSD expansion slots.
Nubia smartphones are known for their camera, and on paper, the specs are quite good. The Nubia Z11 Max comes with a 16MP IMX298 sensor from Sony with closed loop motor AF, sapphire glass lens, f/2.0 aperture and PDAF. You get a bunch of advanced techs on the device like the company's own Neovision 5.9 software, DTI pixel isolation, LTM area control, handheld Image stabilization and 3D Noise reduction. Up front, you get a f/2.4 aperture 8MP 80-degree wide angle lens. As for the Xiaomi Mi Max, you get a 16MP f/2.0 aperture sensor with PDAF, real-time camera filters (you get this on Z11 Max as well) and 5P lens. Up front, the phone features an 85-degree wide angle, f/2.0 5MP shooter. Also, in case you are wondering, both models have dual tone flash. On paper, the Z11 Max seems like the better camera model, but let's wait for a review to check out its performance.
Now let's take a look at their batteries. The Nubia Z11 Max comes with a large 4000mAh capacity battery inside with QC 3.0, which is going to give more than a day's battery life. On the Mi Max, things go to another level, as it comes with an even bigger 4850mAh capacity battery that should technically provide better life than the Z11 Max. But Nubia had to talk a lot about its Neopower 2.0 technology and the use of power-efficient components, so we will have to wait for a real life battery test of both the devices to see which one comes out better.
As for connectivity, you get the usual Bluetooth and dual-band Wi-Fi on both the models. Mi Max has an infrared port as well as NFC, which the Z11 Max lacks.
If you are a music lover, the Z11 Max will look a lot more attractive given that it comes with an independent Hi-Fi chip and amplifier. You also get Dolby decoder and 7.1 Dolby sound. Unfortunately, the Mi Max doesn't feature a Hi-Fi chip. Another difference is that the Nubia model comes with USB Type-C and the Mi Max has a standard MicroUSB port. Finally, coming to the software, the Z11 Max comes with Android Lollipop based Nubia 2.9.9 software, while Mi Max gets the new Android Marshmallow with MIUI 7 on top.
Nubia Z11 Max vs Xiaomi Mi Max: Pricing
Since we are comparing the top-end variants of both the models, both are priced exactly the same i.e. at 1999 Yuan which comes to $304. The Mi Max is already available for purchase while the Nubia Z11 Max goes on sale from June 16.
As you can see in this comparison, both are pretty great devices. If you want a larger screen and battery, you can go for the Mi Max. Or else, if you want a large screen phone that isn't very big, comes with a decent camera, battery, and Hi-Fi audio for around $300 (expect $340-$350 as its reseller pricing), then the Nubia Z11 Max turns out to be a great device.
So, which one would you pick?