Xiaomi Redmi Pro May Carry A Higher Price Tag Than Its Predecessors
hThe Xiaomi Redmi Pro is just days away from the July 27 unveiling at the company's news conference, but that hasn't stopped discussions around the expected Redmi flagship which is tipped to tag along a cheap price label. Apart from the expected specs, the price has formed the bulk of discussions about the Redmi Pro which was thought to be priced around 1000 yuan ($150).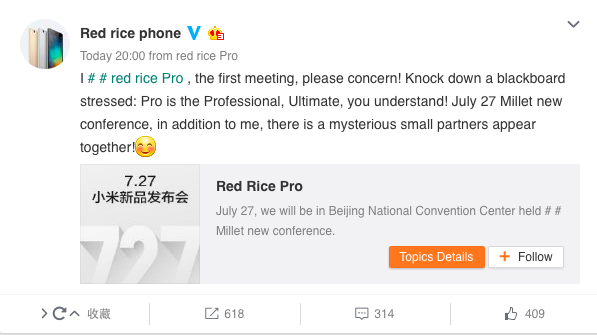 But analysts have suggested that the price might be higher than that. The official introduction of the device as one of the devices to pop on July 27 described the Redmi Pro as "the professional, the flagship" and according to analysts, this seems to suggest that Redmi Pro will be higher than the current Redmi Note series and perhaps sport a price tag ranging between the Redmi price range and the Mi price range.
However, the Redmi Pro isn't expected to carry a price higher than the Mi phone series, even though the Redmi Pro surpasses the Mi phone in some of its rumored configurations. The Redmi phone series presently carry a price ranging between 699 yuan ($105) and 1099 yuan($165), while the cheapest Mi phone which is the Mi 4c costs 1099 yuan ($165). When this is considered, analysts believe the Redmi Pro will break the 1000 yuan barrier .
Read More: Xiaomi Redmi Pro Confirmed! Coming on July 27
Some analysts believe that the Redmi Pro will be priced at 1499 Yuan(about $230), a tad higher than the current Redmi Note range because of the Pro attached to the name which indicates some higher specs package. Secondly, the increase in price could be a good way to enhance the image of the Redmi and Redmi Prime series. Also, a higher, more competitive price will aid Xiaomi in its plans to expand to new markets.
Even at 1499 yuan ($230), the Redmi Pro will still be very cheap with the giant array of features the device is touted to launch with, such as a dual camera setup, 4GB RAM, dual SIM, Android 6.0 Marshmallow OS, 5.5-inch 1080p display, a deca-core Helio X25  chipset, fingerprint sensor and other goodies.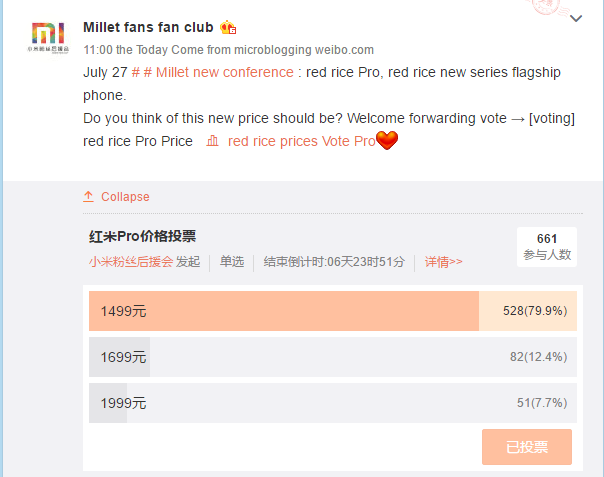 Xiaomi fan club members have even launched a vote to see the price tag fans would prefer the Redmi Pro to carry. The options where 1499 yuan ($230), 1699 yuan ($254) and 1999 yuan ($300) and of the three options, around 80% of fans think the Redmi Pro should be priced at 1499 yuan ($230).
What do you think is the ideal price for the upcoming Redmi smartphone?