More Meizu M5 Note Details Leak: Will Have 2.5GB RAM
by Habeeb Onawole Nov 29, 2016 3:35 am2
The Meizu M5 Note has been in the news a lot these past few days. Earlier today we covered the leak about the phone having multiple variants and their respective prices and just a few hours later more details of the upcoming phone have been leaked.
The new leak comes in form of a specification sheet leaked on Weibo. The most important info on the page is the RAM of the new phone which is stated as 2.5GB. Yes, not 2GB or 3GB but 2.5GB!!!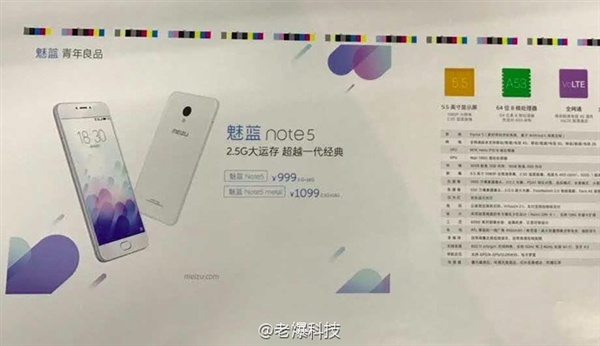 Now this exact RAM size is quite unusual but devices that feature this "kind of RAM" are common from one manufacturer and that manufacturer is Samsung.  Samsung has quite a number of devices especially tablets that have 1.5GB of RAM. I've still not been able to get someone explain why they wouldn't just settle for 2GB of RAM. However for those who wouldn't buy a device with 1GB of RAM and can't afford those with 2GB of RAM or higher, I guess 1.5GB is a middle ground for them.
The spec sheet also states the price of the plastic and metal variant of the Meizu M5 Note. The Meizu M5 with a polycarbonate body will sell for ¥999 ($145) and the Meizu M5 Metal will be priced at ¥1099 ($160).
READ MORE: Meizu H1 Smartband Set to Launch on December 6 for ¥229 ($33)
Although both phones are expected to be available in different storage options ranging from 16GB up to 64GB with support for SD card, so expect the price to be higher than the above. The Meizu M5 Note is said to be available in four colors: a grey unit with black bezels, and a white, silver, and blue unit all with white front bezels.