Samsung Galaxy C7 Pro with 16MP Front & Rear Camera Spotted on AnTuTu
Samsung just went official with the Galaxy C9 Pro recently but the company is still not relenting in trying to move past the Galaxy Note 7 debacle. This time around, the Samsung Galaxy C7 Pro has been spotted on benchmark website AnTuTu today.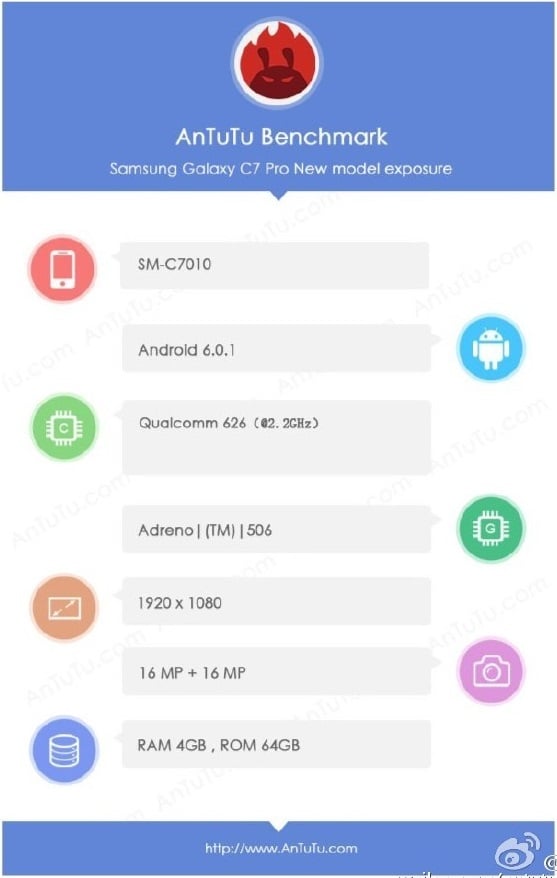 This latest appearance is coming on the heels of the device hitting associate benchmark website Geekbench a couple of days back. As usual Geekbench database doesn't list a lot of the specs , it just revealed the presence of an octa-core Qualcomm Snapdragon 625 chip clocked at 2GHz, 4GB of RAM and Android Marshmallow OS onboard.
The AnTuTu data takes it a tad higher than that, revealing that the device would sport a display with resolution power of 1920 x 1080 pixels. Well, the display size wasn't revealed but earlier appearance of the C7 Pro on India's import/export tracking website Zauba revealed a 5.7-inch display. An  Adreno 506 GPU will also be onboard to power the graphics.
Read More: Samsung Galaxy C9 Pro Features Antenna Design Similar to OPPO R9S
One contrasting aspect between both Geekbench and AnTuTu listings is the processor. While Geekbench listed a Snapdragon 625 chip on the device, the AnTuTu data gave the SoC as a 2.2GHz Snapdragon 626 chip, perhaps one is a mistake. The device also features 4GB of RAM as well as 64GB of internal storage. Also listed is a 16MP camera at the rear as well as a 16MP front-facing camera.