Ninety Percent of Phones Sold in China Are from Domestic Manufacturers
With a population running into over a billion persons, the Chinese market is one of the markets in Asia with lots of potentials and prospects for startups and other business. The sheer size of the country means products could get sold only within the country and companies will declare profits even without shipping outside. But the Chinese smartphone brands seem to be at the forefront of making an aggressive foray into lucrative markets overseas. This they do while keeping a firm grip on their own domestic market.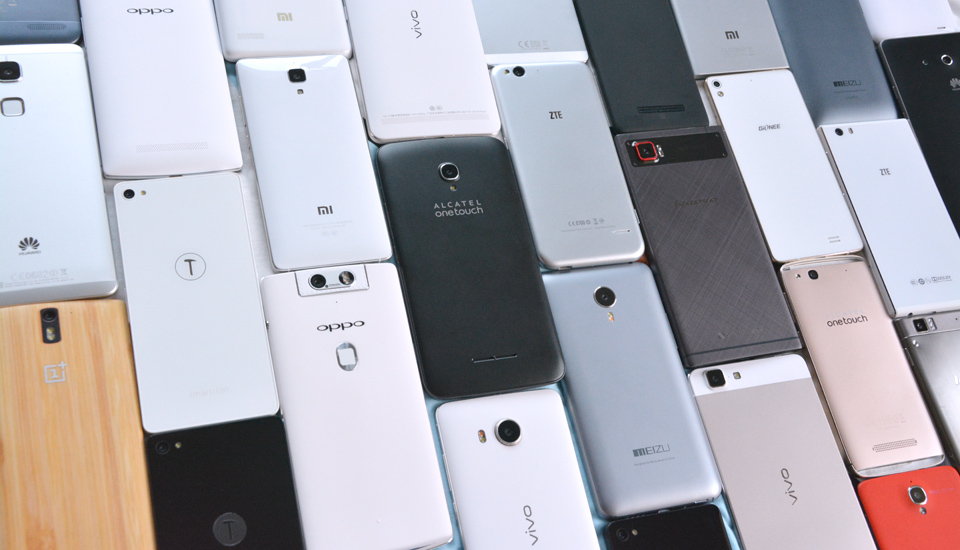 A recent report by the China Academy of Information and Communication showing the statistics of phones shipped in China indicates that last year (2016), a total of 559.7 million mobile phones were shipped in China. This figure represents an 8% increase from the previous year. SUprisingly, the number of new model releases was 1,446 which is down by 3.3 % year-over-year (YOY). This then means the OEMs actually sold more of their older models and not necessarily new phones.
Read Also: Smartphone Buyers Guide: Best Value For Money Chinese SmartPhones $200-$300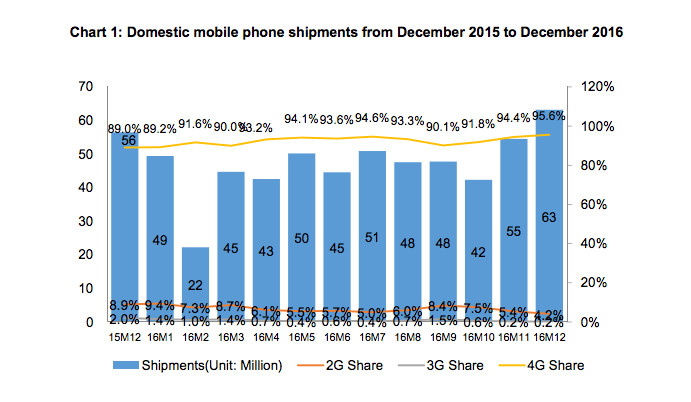 Of the total 559.7 million mobile phones shipped last year, local smartphone makers shipped 497.8 million units in 2016, up 16.1% YOY. The figure accounts for 88.9% of the domestic mobile phone shipments, higher than 85.0% achieved one year ago. Also, the market share of 4G and smart devices continues to grow stably. A total of 519.4 million or 92.8% of total shipments in China support 4G networks, representing a YOY increase of 18%.
Related: Top Chinese Flagships In 2016: Best Phones For Your Money (Year End Edition)
According to research, the growth of the domestic smartphone market is based on the growth of local companies like OPPO and Vivo which contributed a huge role to the surge in shipments from domestic companies. OPPO and Vivo stimulated sales of their products via extensive offline retail outlets as well as using innovative designs on their smartphones. Both OPPO and Vivo were revealed to have captured the top two spots in the Chinese smartphone market, raking in 17% and 16% shares respectively in Q3 2016.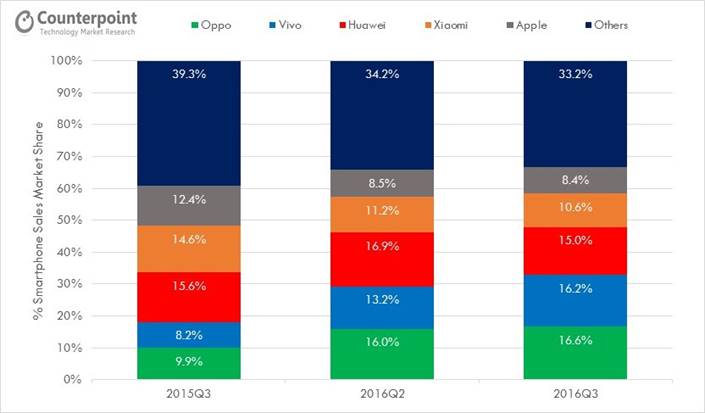 The amazing thing is that apart from capturing the domestic market, Chinese smartphone brands are rapidly expanding overseas, taking on markets in Southeast Asia, Middle East, and Africa. Last year alone, Chinese brands grabbed a chunk off the $10-billion USD Indian smartphone market by capturing 50% of the market, thus slicing off from the shares of market leaders like Samsung. The Chinese brands are even more poised to do more exploits this year. Brands like Xiaomi are restructuring to enable them to capture more of the market shares which they once controlled, so the competition will even be higher than last year.
(source)