Lenovo Underestimated the Difficulty of Reviving Motorola During Acquisition
by Anvinraj Valiyathara Jan 17, 2017 8:47 pm0
In an interview, Lenovo CEO Yan Yuanqing said that it underestimated the difficulty of reviving Motorola.
Motorola Mobility along with its smartphone series such as Moto X, Moto G, Moto E and Droid were acquired by The Lenovo Group in October 2014. Since then Motorola has been operating as a subsidiary of the Chinese company with its headquarters based in Chicago.
Motorola was acquired with its nearly 3,500 workers from all the overall the world. At that time, it was the world's third largest smartphone manufacturer. In 2011, Google had acquired Motorola Mobility for $12.5 billion and the search engine sold the company to Lenovo for $2.91 billion in 2014.
Back to the present, Lenovo has lost its top 3 global ranking. It went down to eighth position in Q2 2016. It has axed around 3,000 jobs and it is recorded its first financial loss since 2009. Hence, Yuanqing has said in an interview to Wall Street Journal, "we underestimated the differences of the culture and the business model."
Lenovo's successful acquisition of IBM created "a certain aura of invincibility" that resulted in the company making several miscalculated decisions. One of its major mistakes was selling Moto branded devices in China in 2015, but it failed to achieve impressive sales as the Chinese market was already saturated with affordable smartphones from various brands.
The Moto X carried a pricing of around $600 and $700. Apple iPhones also carried similar pricing in China. Moreover, the release of Moto phones clashed with the products from Lenovo. In 2015, Lenovo could sell only 200,000 Moto devices in China. Three years ago, Lenovo had a 12 percent smartphone market share in China. However, it has now declined to only 2 percent, according to IDC.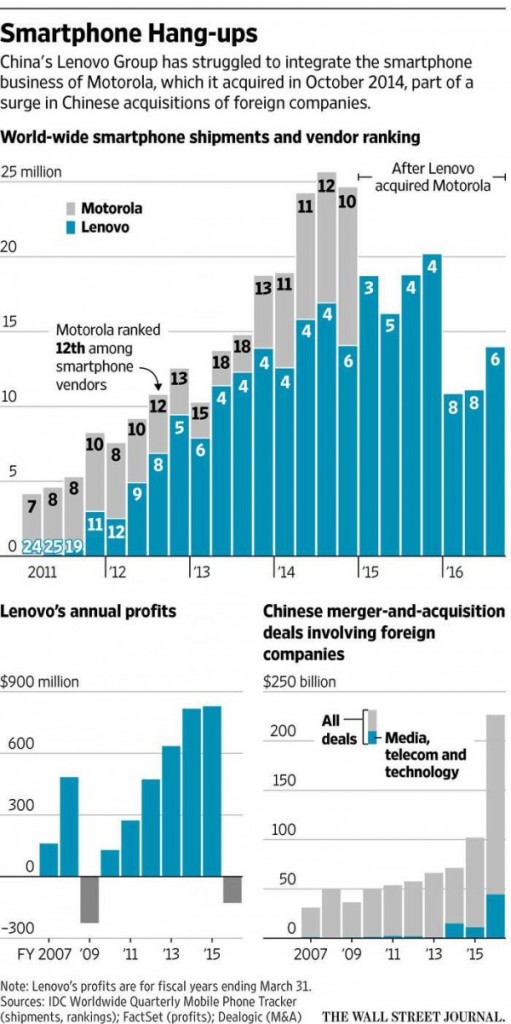 Related: Moto G5 Plus Price Leaked; May Hit Indian Markets By March
Lenovo's strategy for the U.S. market was also unclear. The company had initially boosted advertising revenue for Moto X Force, a smartphone designed for U.S. customers. However, it took a quick decision to reduce the revenue on advertising and product development in the U.S. With an advertising budget of $21.6 million in the first half of 2015 in the U.S., it could never rival with Samsung that invested $187.8 for advertising in the country.
Lenovo's reluctance to spend more advertising coupled with poor sales resulted in axing of 3,000 jobs in the U.S. Moreover, a major part of Motorola's product movement has been shifted to China.
At present, Lenovo has upped the advertising revenue for Lenovo and Motorola products. In 2016, Motorola's advertising revenue was increased by 30 percent. According to IDC, the company managed to climb up to sixth position in the global smartphone market share in Q3 2016. Moto Z flagship from 2016 has also received positive reception from audience and critics.
It seems that Lenovo now has a working strategy to increase sales of Moto branded devices. We hope that in 2017, Lenovo will manage to restore Motorola's lost glory.
(Source)