Samsung Posts Record Figures in Q4 2016 & Full Year Earnings
Samsung had one of its worst incidence relating to the Galaxy Note 7 battery issue during the fourth quarter of last year but that did not affect the company's showing during the period, the company's financial report has shown. The Korean tech giant recently published its financial report for Q4 2016 as well as its full year report revealing its earnings last year.
One spectacular showing on the report is the record figure achieved in Q4 last year, which is said to be the company's best when compared to results of the past three years. The results were boosted by sales from its display and memory chip divisions.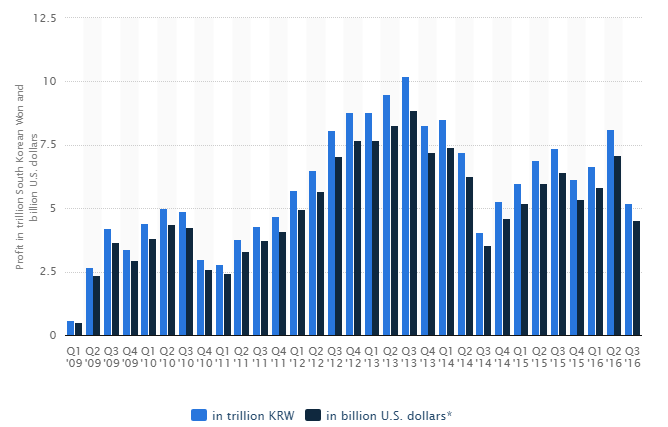 A profit of $7.92 billion was made in the fourth quarter of 2016, while a total of $45.4 billion in revenue was recording in the entire year, indicating an increase of up to 50% year-on-year. The huge demands for its OLED display panels and memory chip was enough to offset the loss made from the Note 7 debacle. The company even projects an increase in demand for value-added flexible display panel this year as a result of innovations in the industry.
Read Also: Galaxy Note 7 Explosions Were Caused by Faulty Batteries, Reveals Samsung
The mobile division wasn't left out, as it is reported to have posted a year-on-year profit increase to $2 billion,  and is expected to do even better in the next few months as sales of the new A and J series commence. The results reveal that the company no longer relies on the flagship Galaxy S-series for its profit as other arms of its business actually accounts for two thirds of its profits now.
(source)