What is Bixby Assistant? 4 Major Features of Bixby for Enhanced User Experience
by Anvinraj Valiyathara Mar 29, 2017 6:09 pm0
After tons of leaks, Samsung has finally announced the Galaxy S8 and Galaxy S8+ flagship smartphones. For better user experience on the new Galaxy S8 duo, the South Korean company has included the all new Bixby AI assistant.
Here is what Samsung has to say about the new virtual assistant, "Bixby is not an ordinary voice assistant, but rather an intuitive and comprehensive interface that leverages contextual awareness to learn users' habits and respond accordingly." It seems it is indeed a new way to interact with the phone.
The other existing virtual assistants such as Siri, Google Assistant, Alexa and Cortana fetch information on the web and then answer the query of the user. Bixby is different as it is not a search engine. It is an assistant and it is aimed towards simplifying the user experience while using the phone, apps and services.
It is built to assist users in almost everything they do on the device such as cropping an image or sharing a captured image on social site. Bixby can be launched through the dedicated button present below the volume rockers and users can simply call "Bixby" to launch it. Bixby provides users with four main features: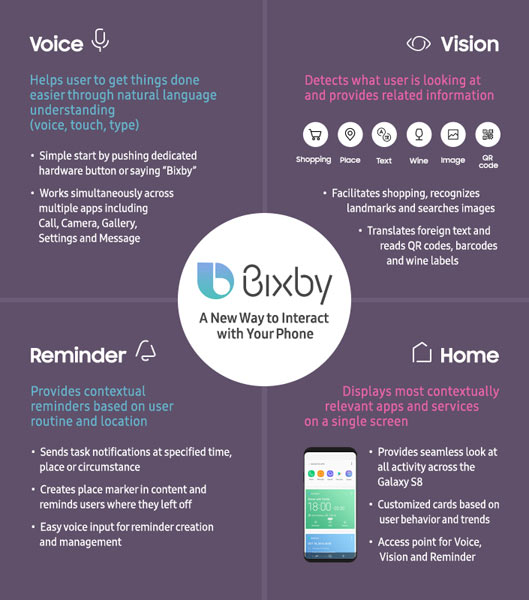 Related: Samsung Galaxy S8 Official: 2K AMOLED, IP68 Water Resistance, Bluetooth 5.0 &; More!
Bixby Voice
Bixby has the ability to understand natural language, Through voice commands, Bixby can perform various tasks with Samsung apps like phone, SMS, contacts, reminders, gallery, settings, and camera. If Bixby is unable to understand the language of the user, it will prompt user to provide more information to finish the task. At the beginning, Bixby will carry support for languages like U.S. English and Korean. Bixby is expected to support Chinese and U.S. Spanish in the near future.
Bixby Vision
Bixby Vision make use of the augmented reality camera to identify the objects users are looking at in real time and then provide relevant information to the user. It can be launched within the camera app or through the Bixby Home. It can also translate text, scan QR codes and identify locations all inside the camera app. Bixby Vison can be used by pointing the camera at an object and wait for the information it provides.
Bixby Reminder
Based on the routine and location of the user, Bixby is smart enough to provide contextual reminders. Users can create task alerts at specified time, place or circumstance. It can also create place marker in content like books or videos and remind users where they left off.
Bixby Home
Bixby Home is a common place in the form a single screen to see all the contextually relevant apps and services. Every time it is accessed, it arranges information on the basis of the schedule, routine and personality of the user.
Bixby is an ambitious effort from Samsung, but it currently works with around 10 Android apps from Samsung. At the Samsung Galaxy S8 Unpacked event, the company claimed that Bixby would work with third party apps as well as Samsung Connect smart home devices.