OnePlus 5T Teaser Poster Leaked, Hints At November 16 Launch
OnePlus is yet again in the news and as you would guess, it is connected with the OnePlus 5T. A new poster has leaked and it teases the launch of the OP 5T as taking place on November 16.The poster has all the colouring of an Amazon advert grabbed from their website and was likely first spotted by Gizchina considering the presence of their watermark on the photo. The poster is suggesting the OP 5T would be an Amazon Exclusive product, perhaps in the region where it emerged from.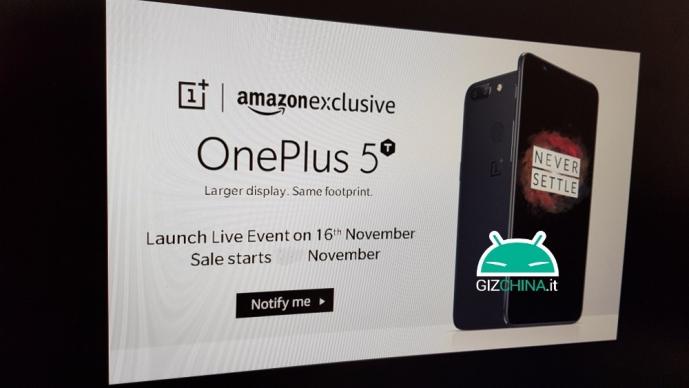 The OnePlus 5T is also revealed on the poster to go on sale in November right after the launch. In addition, the poster contains the render of the OP 5T showcasing the front and rear design. Once again, the renders noticeable look like the OPPO R11s which would launch on November 2. The features include a full-screen design and a dual camera setup at the rear.
Read More: Are These Photos Posted By OnePlus Co-founders OnePlus 5T Camera Samples?
The OnePlus 5T is expected to feature a 6-inch display with 2160 x 1080 pixels resolution which means they would adopt an 18:9 aspect ratio. The flagship model is also expected to pack a Snapdragon 835 flagship processor like the OP5. The device is expected with a 8GB RAM + 128GB memory while there may likely be a 6GB RAM + 64GB storage variant. On the camera end, we expect a 20MP + 16MP dual camera setup at the rear while there will be a 20MP selfie camera at the front.
OnePlus is still yet to officially confirm the OnePlus 5T's existence and subsequently hasn't revealed a launch date for the model. So, these leaks keep confusing us and as such we advise you take this with a pinch of salt.
(via)