Oppo Patents A Smartphone Design With Foldable Display
Many smartphone manufacturers, including Samsung and Huawei are attempting to make a smartphone with foldable display. And now, we have come across another Chinese smartphone maker trying something similar.
Oppo has filed a patent in China for a smartphone design that has a bendable display. About 25 percent to 35 percent of the display from the top appears to be foldable. The images suggest that the foldable part of the screen can be flipped forward as well as backwards.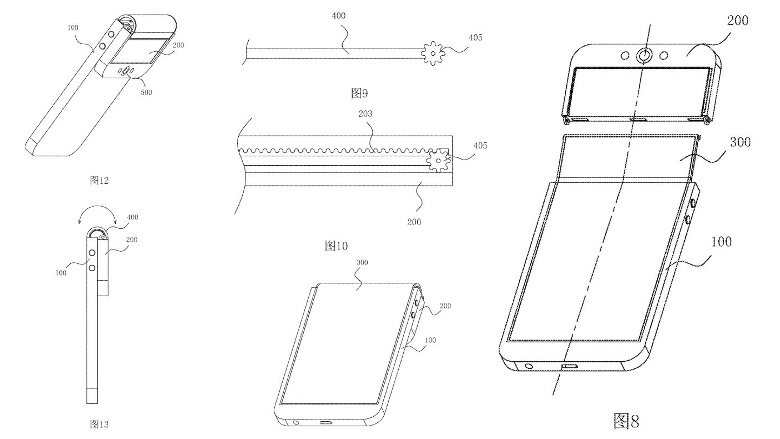 It seems that the display sits on top of a fixed chassis in which the break is connected through hinges, allowing the display to make a 'U' bend. At the top of the display, there is a camera module, which can be used as a front-facing as well as rear-facing snapper by bending the display forward and backward.
However, using a single camera module as a front and rear camera is not a new concept. But, the way it is being implemented is different. In 2013, Oppo N1 was launched with featured a rotating camera module that can spin 206 degrees, allowing users to use it on the back and front of the phone. Following that, Gionee had also launched a smartphone with a rotating camera module — Gionee Elife E7 Mini.
Recently, ZTE launched Axon M — a folding smartphone with two full-sized displays. When folded, one screen lights up for regular usage and when it is flat, it goes into "Extended Mode" which utilizes both displays.
The patent filing from Oppo comes at a time when manufacturers are soon expected to launch devices with foldable or flexible display. Samsung is rumored to introduce a smartphone with foldable display as soon as next year. Recently, a report emerged claiming that Apple is partnering with LG Display for a foldable iPhone for the year 2020. Even Elephone is rumored to release a smartphone with flexible AMOLED.
Read More: China's BOE Display Technology Shows Off Flexible AMOLED Displays
While Oppo has filed for a patent of this foldable smartphone design, it does not mean that we would see such smartphone as many ideas that gets patented never materializes.
(Source)