AnTuTu Releases Top 10 Phones For October, Apple Tops The List
by Habeeb Onawole Nov 13, 2017 10:35 am9
Popular benchmark site, AnTuTu has released its usual list of the top ten smartphones based on their average performance within a particular duration. This time, it covers the month of October and includes data recorded from the 1st to the 31st of the month. The data, as usual is divided into three – iOS, Android and an overall list.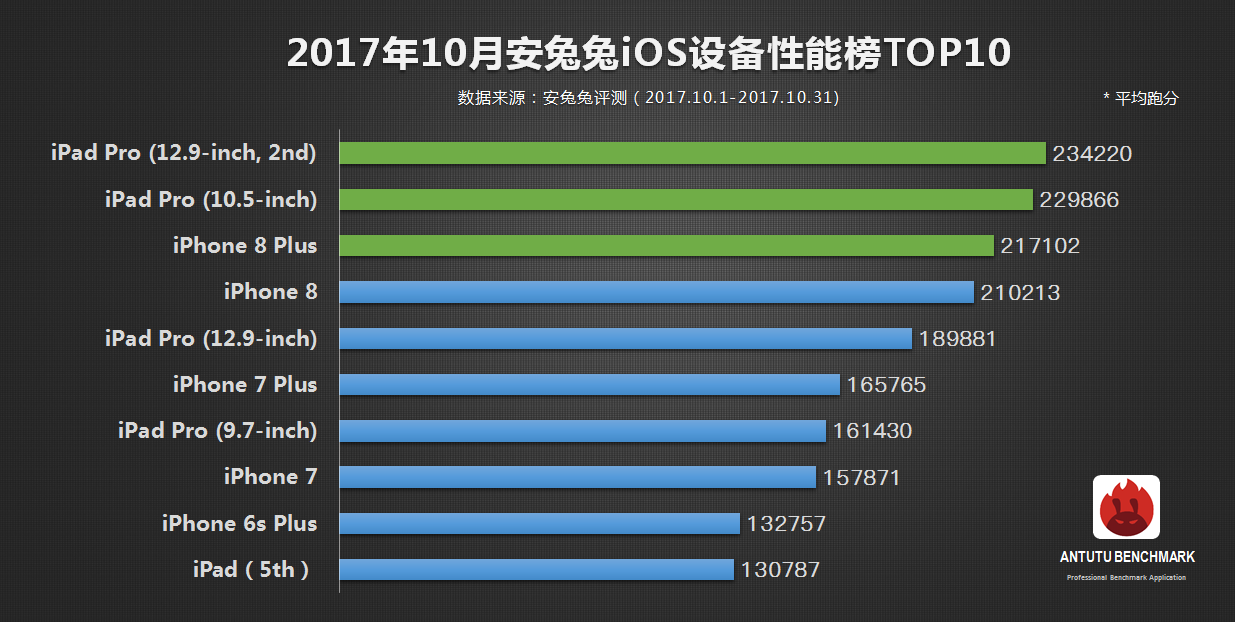 Starting with iOS, the 2nd Gen 12.9-inch iPad Pro tops the list. Released in June and powered by the Apple A10X Fusion, the device scored a total of 234,220 points. It is followed closely by the 10.5-inch iPad Pro released at the same time with 229,866 points. New entries on the list are the iPhone 8 Plus and iPhone 8 coming in with 217,102 and 210,213 points respectively.
2015's 12.9" iPad Pro shows it's still a popular device as it comes in at 5th position with 189,881. The iPhone 7 Plus makes it to 6th position with 165,785 points while its smaller sibling, the iPhone 7 is pushed to 8th place by the 9.7-inch iPad Pro.
For Android, things are a lot more different. There are no Android tablets on the list and this shouldn't come as a surprise. Android tablet sales have continued to dwindle for a while now and it doesn't look as if it will get better anytime soon. Their popularity is waning and they do not offer any special experience compared to what you get on an Android phone.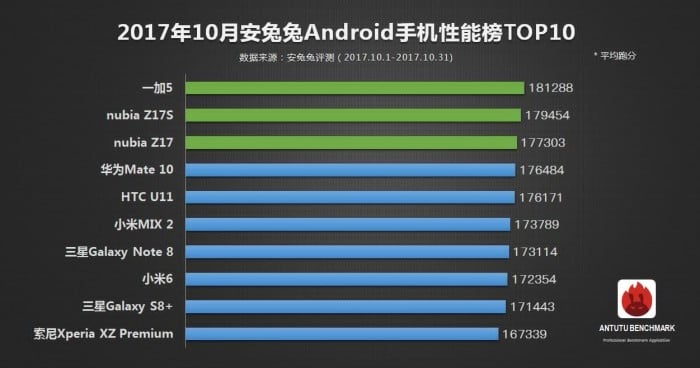 At the top of the list is the OnePlus 5 with 181,288 points. Close on its heels is the Nubia Z17S with 179,454 points and the Nubia Z17 with 177,304 points. The new Huawei Mate 10 also makes it to the list, claiming the 4th position. It is also the only phone not powered by a Snapdragon chip on the list.
HTC's U11 is 5th with 176,171 points and the Xiaomi Mi MIX 2 follows with over 173,000 points. The Samsung Galaxy Note8 is at number 7 and is followed by the Xiaomi Mi 6 and the Galaxy S8+. Sony's Xperia XZ Premium ends the list with 167,339 points.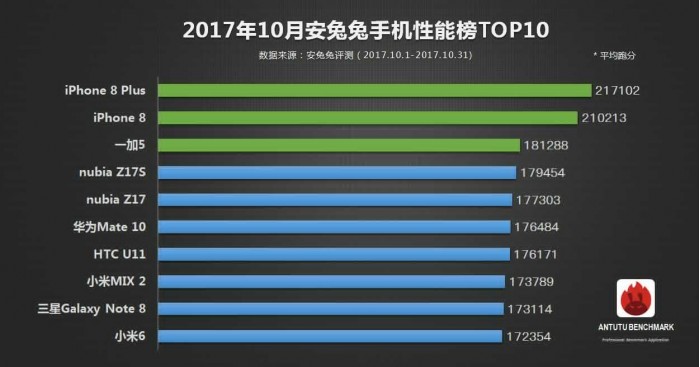 READ MORE: Apple Reclaims Top Vendor Spot in US Smartphone Market
For the overall performance, Apple claims the first and second position with its A11 Bionic-powered iPhone 8 Plus and iPhone 8 respectively. The rest of the entries on the list are a direct port of the top 8 Android devices for the month.
(Via)