OnePlus 5T vs OPPO R11s Comparison: Different Twins
by Michele Ingelido Nov 16, 2017 7:04 pm3
OnePlus 5T has finally been announced and now, at last, we can establish its awesomeness. It is definitely one of the best Android phones for quality-price ratio, and according to us, it is also in the podium of the best Chinese phones released until now. Another one of the best premium Chinese handsets for the quality-price ratio is the new Oppo R11s, released by the same Chinese giant which owns OnePlus: BBK. For this reason and also for the fact that they are aesthetically similar, we can define these two devices as "twins". But there are some hidden differences between them, and in this comparison, we will help you to understand which one fits your needs the most.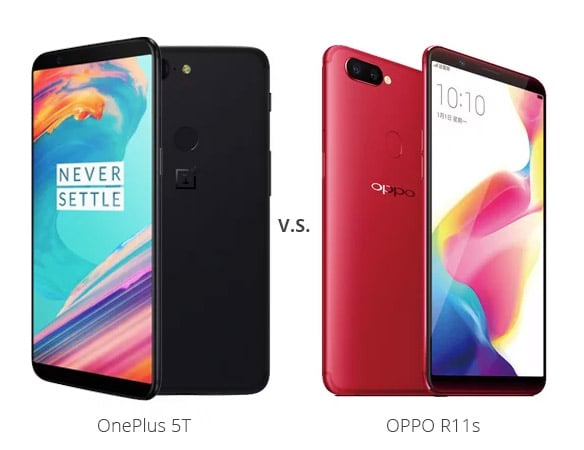 OnePlus 5T vs Oppo R11s: Design
Aesthetically, these phones are nearly identical. There are just some small differences that, in our opinion, do not have any importance.
Both OnePlus 5T and Oppo R11s have a full metal unibody design and they have been announced in various anodized hues. The antenna bands are positioned on the borders for a better look, but the rear side the design of these handsets is nothing new and it looks similar to many devices launched in the last year. There is something better on the front side, as these phones have a full bezel-less display with a very high screen-to-body ratio. It makes the phone be compact even though the display is huge. But the presence of the borderless screen does not mean that the phones are unique. Indeed, the front panel is similar to the one we saw on Samsung Galaxy S8 and S8+. To be honest, some may say, it is even less attractive.
But it is not a bad design and in both cases, they are very thin and nice to hold. Also, they have a solid build quality and their display is protected by Gorilla Glass 5, the sturdiest protection ever made for a display of a mobile phone. Unluckily, the fingerprint reader is on the back on both phones, and it is not so comfortable to use.
If you force us to pick a winner, we would choose Oppo R11s because it is smaller (156.1 x 75 x 7.3mm for OP5T vs 155.1 x 75.5 x 7.1 mm for R11s), thinner and more lightweight (162 g vs 153 g).
OnePlus 5T vs Oppo R11s: Display
The display is similar as well on these two phones, so it is very hard to pick a winner and you will hardly notice the difference.
These devices sport a 6.01-inch AMOLED panel. The one from OnePlus 5T is called Optic AMOLED panel and it has a Full HD+ resolution of 2160 x 1080 pixels. It also has an 18:9 aspect ratio, as you may have already guessed. This panel can offer very vivid colors and deep blacks, as well as a good level of detail. But its detail is not at the same level of the most expensive flagships which are actually in the market. Thanks to this display we get an 80.5% screen-to-body ratio, that is impressive.
Oppo R11s has an AMOLED display and it has a Full HD+ resolution as well, with 1080 x 2160 pixels. But this display is not an "Optic" AMOLED panel, even though we still do not know whether this stands for a noticeable difference in the viewing experience or it is just marketing. Anyways, the color reproduction is pretty nice on this phone too, and the Full HD+ resolution is nice for a device with its price tag (it has a lower price than OP5T and it is not a real powerful flagship as you will see in the next paragraph). We think the display from OP5T will be slightly better because of the company's intense optimizations, but we can not say it for sure, at least until we test it.
OnePlus 5T vs Oppo R11s: Hardware
The differences between these two devices in terms of hardware is very big: in short, we are talking about a flagship versus a upper mid-range phone.
OnePlus 5T has the best SoC that you can see in the Android market: an octa-core Snapdragon 835 with a max frequency of 2.45 GHz. In the cheapest variant there is 6 GB of RAM and 64 GB of internal storage, while the most expensive one has 8 GB of RAM and 128 GB ROM. In both cases there is no micro SD slot, so you will not be able to expand the memory. But the phone is still dual SIM (dual stand by) This phone is one of the best in terms of performances, it is incredibly fast and smooth. OnePlus managed to provide the best software optimization according to AnTuTu, as its predecessor OP5 is actually the best Android phone on benchmarks.
Oppo R11s has an octa-core Snapdragon 660 SoC that can run at a max frequency of 2.2 GHz, paired with 4 GB of RAM and 64 GB of internal storage. In this case, you can expand the memory through a micro SD and you can reach up to 256 GB. The micro SD uses the secondary SIM tray, so if you expand the memory you will lose the secondary SIM slot. The micro SD slot is an advantage over its opponent, but it is totally obscured by the SoC. This phone has a mid-range processor that is never able to provide similar performances to the ones of the Snapdragon 835. It is still a great SoC, the best from the mid-range segment, but its speed and its graphics card is not comparable to the one inside the Snapdragon 835. Also, on Oppo R11s there is less RAM, and this means that you will be able to open a lower number of apps at the same time without experiencing lags, reloads or other limits in performances.
OnePlus 5T wins the hardware comparison as it performs way better than its opponent.
OnePlus 5T vs Oppo R11s: Software
OnePlus 5T and Oppo R11s have a different user interface, but both UIs are based on the same Android version.
The new OnePlus flagship has OxygenOS installed, 4.7 version based on Android 7.1.1 Nougat. There are important new features brought by OnePlus in this new version of its user interface. If you buy it, you will find a new Gallery app which will make you search for photos basing on the place in which you shot them. There is a Parallel Apps feature to clone applications, and you will also find a new Face Unlock feature that is able to unlock. This feature will make you unlock your phone with facial recognition in less than a half second.
Oppo R11s has Color OS, which offers similar features and it is also based on Android 7.1.1 Nougat. It has a smart gallery app as well as facial recognition. Unlike on the OP5T, here facial recognition can also be used to shoot selfies together with AI. Thanks to it, the phone can recognize and highlight certain parts of your face to make it beautiful. Anyways, we think OnePlus 5T has a better software, with a better optimization, and it may also be supported in a more immediate way. The company has already confirmed that the phone, together with OP5, will officially be updated to Android Oreo before the end of the year (beta).
OnePlus 5T vs Oppo R11s: Camera
At least on the paper, the cameras from both these handsets are very similar. You will get a great camera phone by buying each of them, but the differences are present.
OnePlus 5T has a dual camera setup on its back, with resolutions of 20 + 16 MP and f/1.7 aperture. The secondary camera aperture on the OP5T is f/1.7 as well (unlike OP5 which had a f/2.6 aperture): the secondary sensor is a special low light shooter that will help the device to solve the most important problem present in Chinese phones: making photos in low light conditions better. Unfortunately, there is no OIS, just like on the OP5, but there is EIS for basic stabilization. Videos can be recorded with resolutions up to 2K (2160 fps) and Full HD at 60 fps is supported as well. The front camera is the same as the OP5, it has a 16 MP resolution (f/2.0) and it is stabilized (EIS).
Oppo R11s has a dual camera with exactly the same resolution and aperture as its opponent: 16 + 20 MP f/1.7. But it is not as efficient as its opponent in terms of stabilization. Expect a great detail, colors and good performances in low light conditions, though. The front camera has the same resolution: 16 MP, it has a f/2.0 aperture but it has no electronic stabilization. So probably you have already understood, OnePlus 5T has a better camera department and it wins the camera comparison even though Oppo R11s supports AI for selfies as described in the "Software" paragraph.
OnePlus 5T vs Oppo R11s: Battery
OnePlus 5T is thicker than R11s, but it also has a slightly bigger battery. The lithium unit of this phone has a capacity of 3300 mAh and it supports the Dash Charge technology for fast charging. We still do not know how the battery life will be if we compare it with OP5, but we expect a more than sufficient performance. The battery should provide almost a day of stressed use and it will probably charge itself very fastly.
On the other hand, Oppo R11s has a slightly smaller battery with a capacity of 3200 mAh. This battery still provides a sufficient battery life together with Snapdragon 660 which provides a low energy consumption. Further, it supports the VOOC fast charging technology, so it should charge as quickly as the OP5T. But OnePlus 5T should last a bit more, at least if we do not stress it too much. So, at least on the paper, OP5T wins the comparison.
OnePlus 5T vs Oppo R11s: Price
While OnePlus 5T will be available to purchase worldwide, R11s is only available to purchase in Asia. Anyways, let's talk about the prices. For the new flagship, the company has decided to keep exactly the same price as its predecessor OP5, except for the US, the only place where it will cost $20 more. The price will be $500 in the US for the 64 GB version and $560 for the 128 GB version. In Europe, the prices will be 500 and 560 EUR.
Oppo R11s, instead, is going to cost about 450 EUR in Asia, and that is a cheaper price. You will be able to find it with a street price of about 480 dollars if you choose to buy it online. Oppo R11s wins the price comparison as it can be found with a lower price, and much time will pass before the listing price of OP5T will decrease. Even if it happens, the price will probably go down on third-party online stores and not the official OnePlus store.
OnePlus 5T vs Oppo R11s: Winner
OnePlus 5T is the winner of this comparison without any doubt. Why? Simple, it offers much better performance thanks to its more advanced processor and the higher amount of RAM, it has a better camera side and probably a better display too. There is no department where Oppo R11s is noticeably better than its opponent. But note that R11s is a bit cheaper, so it would make you save some money, if you really are on a tight budget.
OnePlus 5T: PRO and CONS
PROS
High screen-to-body ratio
Solid build
Unbeatable performances
Pretty good cameras
Very fast charging technology
CONS
No original design
No OIS
Still Full HD display on a flagship
Oppo R11s
PROS
Big display in a small-sized body
Build quality
Nice camera department
VOOC fast charging
Great price
CONS
Not the best processor
No OIS
Limited Availability