The average prices of premium smartphones have increased a lot in the past one year. Popular brands have decided to launch their flagships with a higher price tag compared to the previous models from 2016: for example, look at the listing price of Apple iPhone X, or check Samsung's prices for the Galaxy S8, and the Galaxy Note 8, and even the Chinese company Huawei, who is selling P10 and P10 Plus with a higher price than their predecessors. But we cannot say the same about OnePlus 5T and Essential Phone PH-1. The latest flagship by the Chinese startup launched by BBK, and the first phone launched by the creator of Android (Andy Rubin), are among the cheapest flagships ever. In this comparison, we want to help you understand which one is worth buying.
OnePlus 5T vs Essential Phone: Design and build quality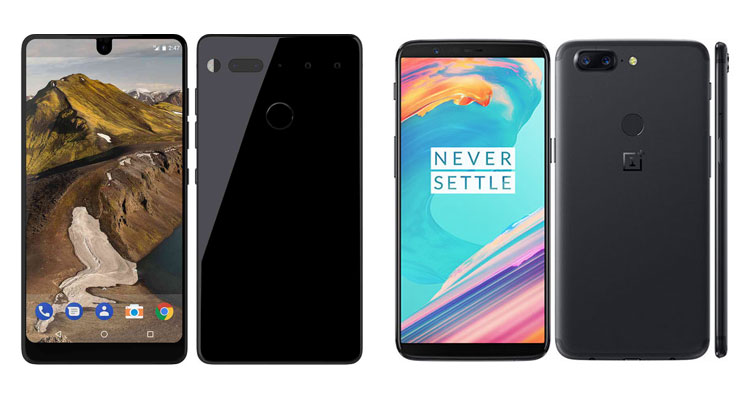 This comparison includes phones with very innovative aesthetics. Indeed, both are bezel-less phones and both have a very refined design.
OnePlus 5T has a full metal unibody design with antenna bands positioned along the borders. It measures 156.1 x 75 x 7.3 mm and its weight is 162 grams. Its screen-to-body ratio is superior to 80% (80.5 percent to be accurate), and thanks to it, this device is ergonomic even though it is a very big phablet. The bezels are almost absent on the sides and they are very narrow on the upper and lower parts.
Essential Phone has a size of 141.5 x 71.1 x 7.8 mm, while its weight is 185 grams. It has an even higher screen-to-body-ratio than its opponent (about 85 percent). This, together with the smaller display, makes the device much smaller than OP5T. Obviously, thanks to its smaller size, it is also more ergonomic.
Now, let's talk about the build quality. OnePlus 5T is entirely made of metal just like most other phones, but it looks solid and well-built. The display is protected by Gorilla Glass 5, the most efficient protection realized by Corning. So, even if it is a borderless display, it should provide a good resistance to shocks and drops.
Essential Phone is the first modern smartphone to sport a frame made of titanium, and it also has a back cover made of ceramic just like Xiaomi Mi Mix 2. They are unique materials and they also provide a better look and a better tactile feedback. At the same time, the phone is resistant to drops, as titanium is one of the most resistant materials.
So, if we talk about design alone, according to us, the Essential Phone wins the comparison.
OnePlus 5T vs Essential Phone: Display
Each phone has an innovative display with a wide 18:9 aspect ratio (19:10 for Essential Phone) which makes them suitable for multi-tasking and easy to hold with one hand.
OnePlus 5T has an Optic AMOLED screen with a size of 6.01 inches and a Full HD+ resolution of 1080 x 2160 pixels. It supports DCI-P3 technology and sRGB for very accurate colors, it has very high brightness, very deep blacks, and wide viewing angles. Even if the resolution is not the highest we can find in the market, it is still one of the best displays thanks to the other parameters described above.
Essential Phone has a 5.71-inch display with a notch on the upper part that was necessary to make space for the front camera. It offers LTPS IPS LCD technology with Quad HD resolution of 1312 x 2560 pixels. Even if it has higher details, we prefer the panel of the OnePlus 5T due to its better colors, usability, and bigger size.
OnePlus 5T vs Essential Phone: Hardware
There are no limits in terms of hardware, these phones sport incredible components.
The flagship by OnePlus has the best processor in the market: the octa-core Snapdragon 835 by Qualcomm with a max frequency of 2.45 GHz. The SoC is supported by 6 GB of RAM and 64 GB of internal storage in the cheapest variant, while the costlier one sports 8 GB of RAM and 128 GB of internal storage. The memory is not expandable but on the other hand, there is a UFS 2.1 storage, which delivers blazing speeds at data transfering. According to the company, this is the best performing phone ever. Seeing that its predecessor OP5 has the highest score in the Android market according to the benchmarking platform AnTuTu, we believe in what the company said. On the connectivity side, there is a dual SIM slot, a USB-C port, Wi-Fi 802.11 a/b/g/n/ac dual-band and even Bluetooth 5.0.
Essential Phone has an octa-core Qualcomm Snapdragon 835 SoC as well, paired with 128 GB of storage (UFS 2.1, so very fast). This phone does not have 6 GB RAM: it has a 4 GB RAM only, but it is still good for most activities. In both the cases, you would get a fast, stable and smooth phone, but OnePlus 5T feels better in terms of performances, at least on paper. We still have to test to confirm its super fast performance, but considering the performance of the OnePlus 5, we believe that Essential Phone will not be at the same level of its opponent (to be honest, many people noticed several lags on this phone, that we hope will be fixed after the next updates). Essential Phone's connectivity includes a single SIM slot (without micro SD slot), a USB Type C port, Wi-Fi 802.11 a/b/g/n/ac and Bluetooth 5.0.
OnePlus 5T vs Essential Phone: Software
The user interfaces of these handsets are similar to stock Android: the companies chose simplicity and performance instead of implementing a lot of additional features.
OnePlus 5T has been launched with Android 7.1.1 Nougat out of the box and OxygenOS 4.5, a special fork with some customizations. Among the additional features, there is a special night mode which makes the display become similar an e-ink panel to read much without getting our eyes tired. There is also a very interesting feature for authentication called Face Unlock, which makes us unlock the phone with facial recognition in just 0.4 seconds. Android Oreo will not be available before 2018.
Essential Phone has Android 7.1.1 Nougat out of the box as well, but the first beta of Android Oreo has already been released and the phone is expected to update to the final firmware before the end of the year. There are no customizations in the software, which is identical to the stock Android experience, except for the management of the space near the notch on the upper part of the screen. Here, the user interface adapts in a particular way in order to avoid making the presence of the notch uncomfortable.
Overall, OnePlus 5T definitely has a better software.
OnePlus 5T vs Essential Phone: Camera
To describe the cameras of these phones, we can define them as good premium cameras, but not the best ones.
OnePlus 5T has a dual camera setup with resolutions of 16 and 20 MP. Both sensors have a f/1.7 aperture and they are able to capture a high detail even in low light conditions (they can do a 2x optical zoom, too). The main camera is equipped with electronic stabilization and it can record videos with a 4K resolution. The selfie camera is interesting too, thanks to its 16 MP resolution.
On the other hand, Essential Phone offers a dual camera with a 13 MP resolution and a monochromatic sensor that can capture more light. It does not have so many options in the software, but the colors are nice in every lighting condition. To be honest, we expected much better photo quality on a phone backed by Andy Rubin, I mean it does have a nice camera but it is still so far from the ones that we can find on the top camera phones. We can tell you exactly the same thing if we talk about videos. The camera from OnePlus 5T is way better and it wins the comparison.
OnePlus 5T vs Essential Phone: Battery
OnePlus 5T has a battery with a capacity of 3300 mAh. It has the same capacity as the battery from OP5, which can last until the end of the evening even with a stressed use. It is also possible to charge this phone very quickly thanks to the Dash Charge technology.
Essential Phone has a 3040 mAh battery which can last till the end of the day with moderate usage, but it may not easily last an entire day. If you want to stress this phone, you may be forced to use the battery saving mode to arrive until the end of the evening. There is a fast charging technology here as well.
OnePlus 5T has a longer battery life, so we choose it as the winner of the battery comparison.
OnePlus 5T vs Essential Phone: Price
The price is the most important advantage of these phones.
OnePlus 5T is going to be available in several nations with a price tag of 499 dollars/euros in the version with 6 GB of RAM and 569 dollars/euros in the most powerful variant with 8 GB RAM. For a flagship released in 2017, this is a very convenient price, especially if we consider that there is not an Android phone that can reach its performance, according to the company. The phone will be sold via the official website of the company and usually, it is rare to find a discount on OnePlus phones from the official site. Several months may pass before you will find this phone discounted in the market.
Essential Phone can be found at a price of just 449 dollars, but it is still not available to purchase in Europe (Andy Rubin has hinted that it will be launched soon in the Old Continent, but we still do not have an official date). Essential Phone is much cheaper to buy, as its price has dropped recently and if you like this phone we suggest you buy it immediately as this is the most important price drop since its release.
OnePlus 5T vs Essential Phone: Winner
OnePlus 5T wins the comparison: it has a better display, superior performance, a better camera and even a longer battery life. Essential Phone has a more refined design, but the design alone is not enough to make it compete with its opponent.
OnePlus 5T: PROS and CONS
PROS:
Great price
Very nice display
Best hardware and performances
Good camera
CONS:
Essential Phone
PROS:
Innovative design and materials
Powerful hardware
Bloatware-free stock Android
Unbeatable price
CONS:
The camera is just decent
Which one would you pick?